For many people, gladiator sandals are thought to be a tough piece to style. Though a relic from history, these shoes have made their way back into fashion. They were originally considered military boots for the soldiers in ancient Rome, offering an open shoe design for comfort and practicality. Gladiator sandals are undoubtedly unique in comparison to many other styles of shoes, as this sandal is designed to lace up the entirety of your leg. With this piece in your wardrobe, you can easily make a statement with your style simply with your shoes.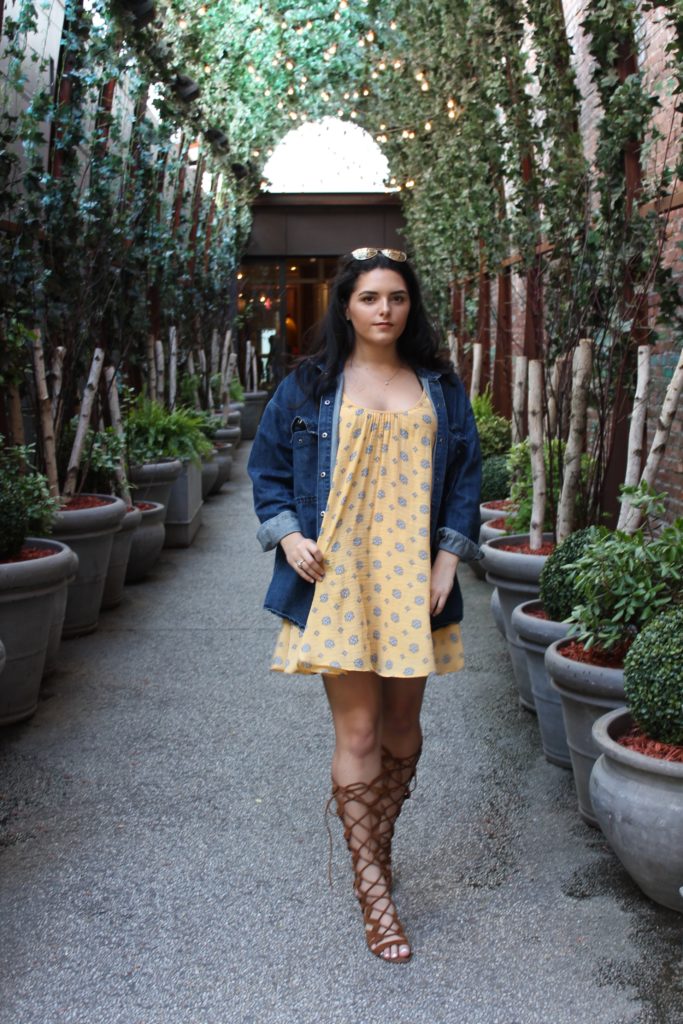 Since gladiator sandals were a historical symbol of strength, I figured I would create a contrast between these warrior shoes and a short, dainty sundress. I chose this yellow sundress because the yellow provides vibrancy and the floral pattern offers delicacy—a harsh juxtaposition between what is traditionally thought to be a rough, masculine shoe and what is traditionally thought to represent femininity. Any dress that is short enough to showcase the shoe will work with this look and will create the perfect contrast. The contrast between the dress and the warrior shoes creates the perfect spring and summer look, as it's quick and easy but does not jeopardize comfort or style.
If it's breezy or a little cold outside, you can even throw an oversize denim jacket over the dress to tone down the look and give the outfit an even more more relaxed, everyday vibe. Playing with patterns and layering them on top of one of another gives more depth to your outfit and ultimately can take a simple, basic look to the next level.
How do you feel about gladiator sandals? Comment below or tag us on social media @CFashionista.