If you want to see and to be seen, New York City is the place to be. Sublime architecture, inspiring street art, historic monuments, and so on fills every corner of Manhattan and makes it an incredible image worth seeing. In addition, this city's hustling diverse population plays an integral role in upholding its aesthetic. New York City has contributed to my own taste in fashion immensely, which led me to write this post dedicated to style in the city.
With a plethora of neighborhoods to explore and to use as my destination, I chose SoHo because of the trendy ambiance. Home to a variety of stores, like Chanel and Saint Laurent, SoHo manifests fashion.
Black is a true New Yorker's uniform hue. Chic, slimming, versatile, and more, black is a color that must be in every Fashionista/o's closet. With this in mind, I decided to put together this head turning look which makes a statement on a night out (and even a spontaneous photoshoot) in Manhattan.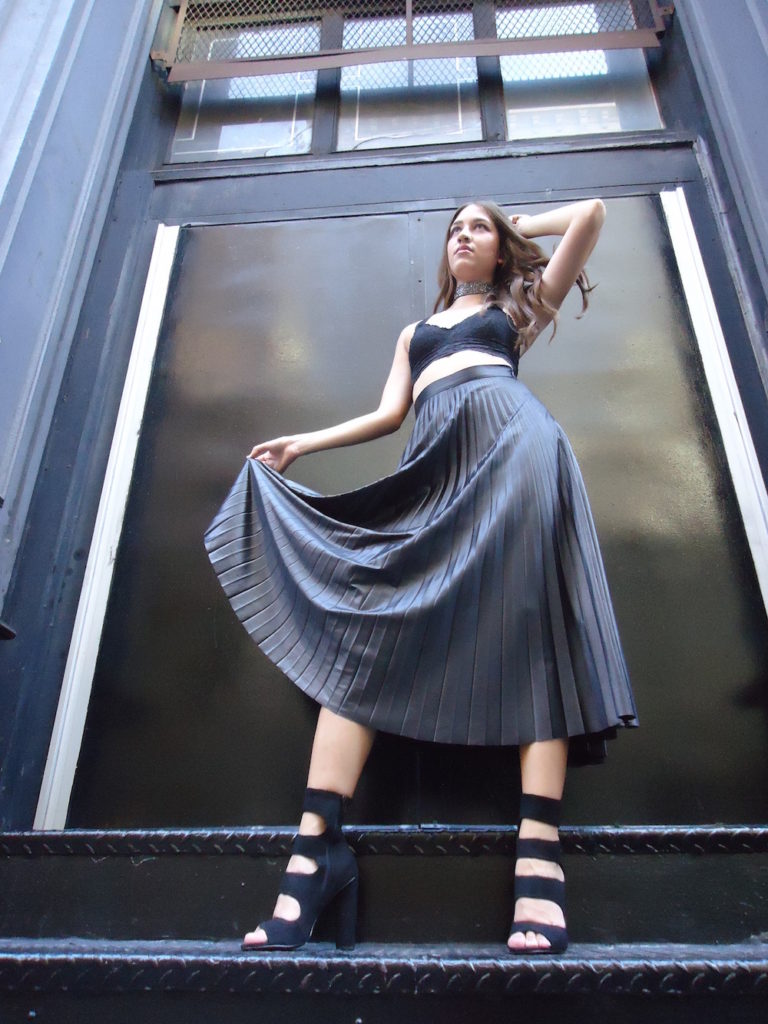 This black lace bralette is a wardrobe necessity since it can be layered or worn as a crop top like how I styled it. City nights can be chilly, so I went with this black and white satin robe trimmed with black lace as a cover up. I love that it is light-weight and has a beautiful draping effect, especially when it is slouched down to your elbows. I decided to pair it with this pleated black leather high-waisted midi skirt to emphasize elegance as well as create a unique silhouette. It's the perfect skirt for swirling, dancing the night away, and for making Boomerangs! Another great quality about these pieces (worn together or as a set) is that they are comfortable and trendy for any occasion all year round.
In regards to jewelry, I kept it simple and to a minimum. While shopping, I came across this beautiful charcoal silver diamond encrusted cuff bracelet. Luckily, I was able to turn it into a trend favorite of mine, a choker. To add a pop of color seen frequently in graffiti art, I chose this fierce, magenta leather, Mongolian fur clutch. For shoes, I opted for edgy black suede open toe heels. The extra height is a great confidence booster, plus they are easy and comfortable to walk in (especially on cobble stone!).
Whether you're in SoHo, Chelsea, the Upper East Side, or another neighborhood in Manhattan, always stay true to who you are and express your individual style to be seen!
What do you wear in New York City? Show us on social media, and don't forget to tag @Cfashionista!