Every decade for the last hundred years has had its own way of defining the times with a creative use of color. The '50s were covered in solid pastels and picnic ready plaids. We all know what time it is when someone pulls out those neon leg warmers and spandex: back to the future with that '80s vibe. Its 2015, so how do we define our decade today? With color-blocking!
Solange Knowles is the queen of perfect color combos with her eclectic street style. We've seen color-blocking before back in the '70s. At the time, women were rocking the purple power suits with nylons to match. Today, however, one way to represent the 21st century is by using bright and modern pops of color in a more subtle way. You can get technical with your color code by only choosing complimentary, analogous or triadic colors schemes. That's the kind of thing we learn in art school! But, if you don't know what the heck I'm talking about, and trying to figure it out would only add stress to your morning routine, just go for colors you already own, add to your collection the colors you love and just pick whatever feels right!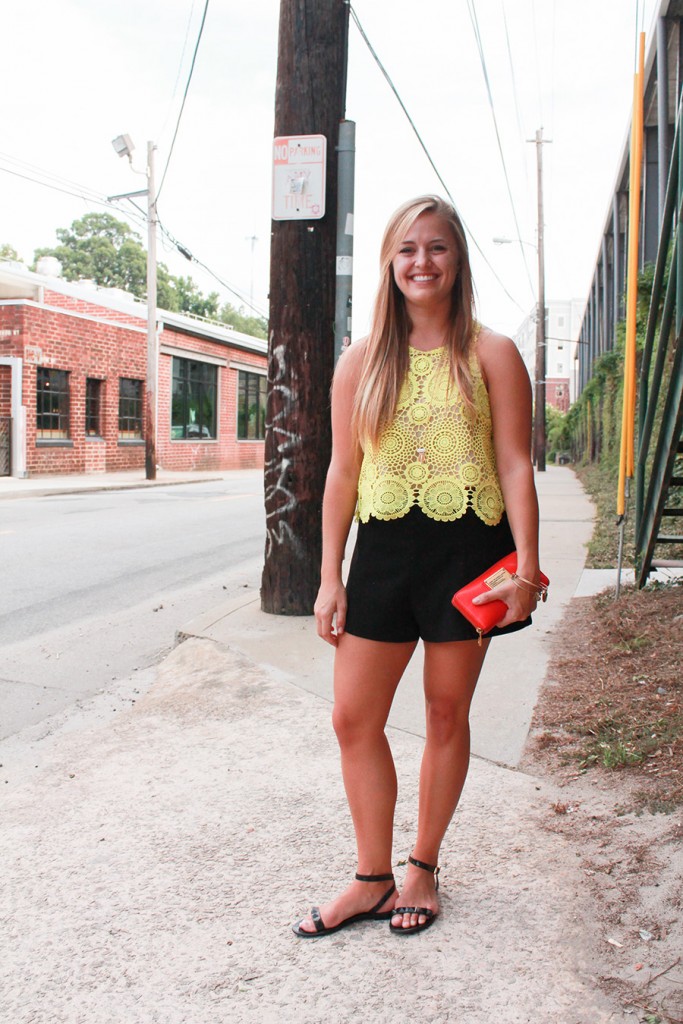 This Fashionista wore a bright lace crop top, a wonderful homage to many decades. This warm yellow has been a summer must-have. To complement her black on black shorts and sandals, she chose to accessorize with a bright red-organge clutch like this one from kate spade. This styling choice makes this look a great example of an analogous color scheme. This just means the colors and next to each other on the color wheel. If you're more like me and you stick to a strict neutrals regimen, mixing and matching colors does not equal neon! Try pairing more faded colors like this olive dress from Urban Outfitters with a lavender brim hat (any form of green and purple are opposites, or "complementary"). Color-blocking is something any Fashionista can try no matter their style.
What is your STYLE ADVICE OF THE WEEK? "Remember, you're a college Fashionista! There is no fashion challenge, even coordinating colors, that you can't handle."