If you have been keeping up with me this summer you would know I have a disproportional liking for certain trends. Maybe it's my cultish love for Clueless or my childhood dream of being the gutsy Chinese warrior Mulan, but I just can't get enough of retro fashion references and gender-bending style. I also keep an eye out for simultaneously effortless and exciting details.
This Fashionista on campus caught my eye with her bright yellow oversized windbreaker and overall artsy look. She proudly informed me that this gem of a garment was, in fact, a genuine vintage hand-me-down from grandma. So rad! Don't have a fashion mogul mom on hand? Fear not, you can find this look in stores near you. Try checking out both the men's and women's sections to discover your own flashback find. References to casual cool '90s fashion, like skater shoes, windbreakers, and snapbacks, are not going anywhere for a while.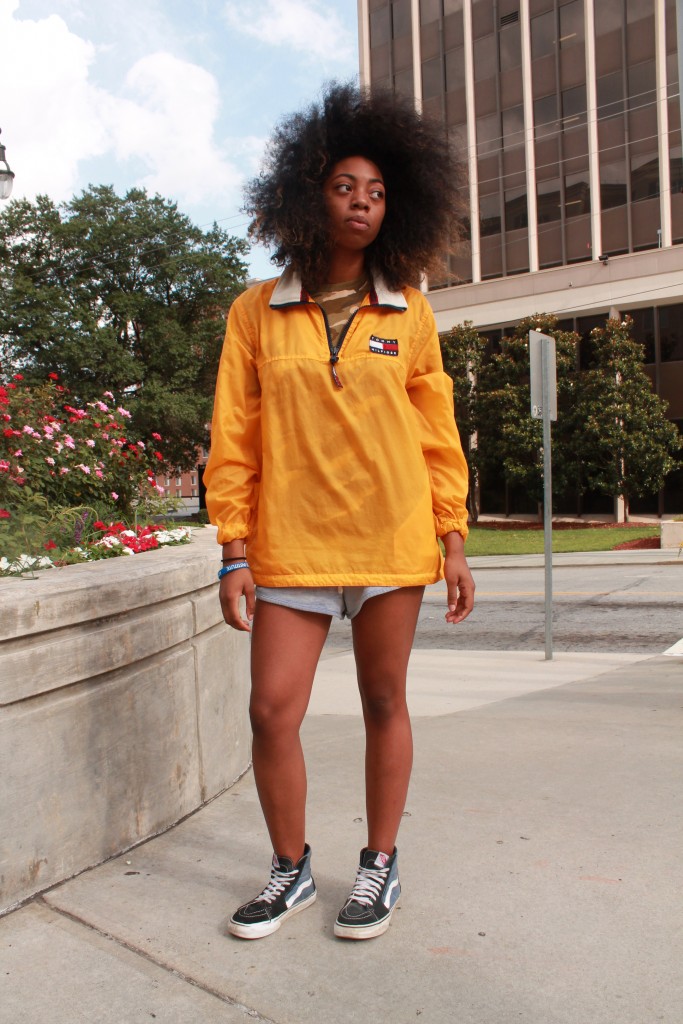 Fashionistas are mastering comfort with style and this campus crawler is no exception. The cool thing about this look is that it would be just as hot no matter how she wears the jacket: layered with this camouflage T-shirt, or around the waist, grunge style. The luxe version of this style, what seems to be developing into a classic, was even seen on the pre-fall 2015 runways. Lisa Perry paired neon basics with casual classics to create a sporty chic collection.
What is your STYLE ADVICE OF THE WEEK? "You can gain more than wisdom from grandma! Stay fresh by mixing and matching new with vintage."