The seasons have changed and so has the fashion selection. This summer is a time for a brightly colored bag, crop tops, and aviator sunglasses. This Fashionista is rocking just that! Her style includes all of the summer's trendy statement pieces. This Fashionista's look is perfect for a summer day!
If there is one thing I love for any season, it's a good quality handbag. Since I always feel attached to my bag, it has become a central piece for my fashion choices. Fashionistas everywhere may find that bags serve a purpose besides helping to hold every needed item for a day (or night) on the run. Especially during summer, Fashionistas are noticing that a bright bag can be used as a statement piece. Also, most individuals who carry pink, yellow, light blue, etc. bags will get attention from everyone who sees.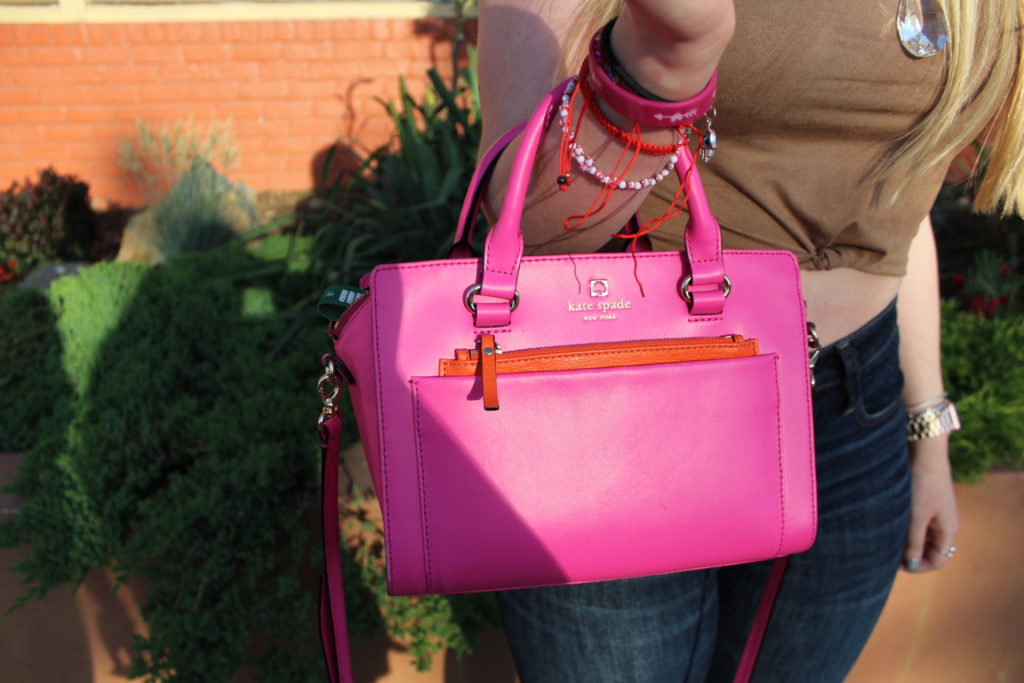 This Fashionista paired her bright pink bag with a neutral crop top and high-waisted jeans. She also wore a ton of accessories. Another focal point of this outfit is the accessories that tie together the selection. She was wearing bracelets, rings, reflective sunglasses, and more. The saying goes, "Sometimes less is more," yet, sometimes, to create the perfect look, more is more.
In this look, the colors do not stop with the bag. In fact, this fashionista is highlighting her outfit even more with help from a colorful pair of sandals. The colors stand out compared to the muted crop top and jeans. The subdued top and bottoms allow for the accessories and other components to shine. The color choice for accessories and clothing are equally important!
One could transition this look from day to night by adding a light jacket. Any type of jacket can match. Whether it is a bright bomber jacket or a plain denim, the outfit will shine. Furthermore, one could switch out the sandals for a darker pair so that way the bag pops even more during a night out on the town.
Do you enjoy bright colored bags? We want to see! Post a picture and tag @Cfashionista!