Summer is the season for festivals, concerts, cookouts, and exploring. Any activity under the sun is a great chance to spend time with loved ones while soaking up some vitamin D. Unfortunately, gray clouds sometimes interrupt the fun, literally and figuratively. With warm weather comes more revealing clothing and not everyone feels comfortable enough in their own skin to get out there and enjoy the heat. This look is the perfect confidence booster that embraces a woman's shine and stunning personality: a rainbow after a storm.
The main focus of this look is the flowy, maxi dress. This piece is very flattering with the natural waist and long skirt. Its colorful, vertical stripes are eye-catching and bring an element of joy to the simple maxi dress shape. However, the best part of this dress is how dynamic it is. The flowing skirt bounces and twirls as you move; so run, spin, and dance! Find delight in how your body moves: your dress is celebrating with you.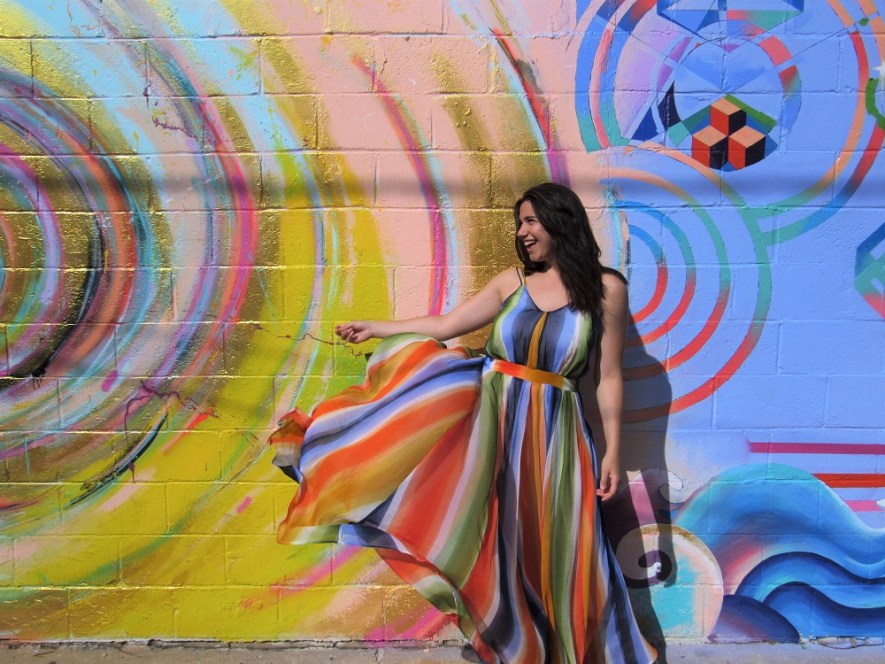 I paired this stand-out piece with a pair of brown wedges and pink sunglasses. The understated, warm, brown shade of the shoes complements the bright colors in the dress. The added height helps give that extra boost of confidence and encourages you to stand tall and proud. Pink sunglasses were the cherry on top of this look. While the dress is a statement in itself, these sunglasses are funky and adventurous. As they protect your stunning eyes, their unusual shape adds a touch of daring to the look.
Finally, I topped the look off with my favorite accessory: a smile. Fashion has always been a way for me to find my confidence. If I dress like a boss, I am a boss. However, this is only half the battle. You need to believe you are as beautiful, unique, and fun as you look, so let yourself shine. A smile reminds you that you are as wonderful to behold as a rainbow after a storm.
What look boosts your confidence? Show us on social media and tag @CFashionista!