A new season always brings about a new wave of creative accessorizing. Through spring festivals into the warm months of summer, comes a trend that's ultra-casual yet super fashionable—bandanas, baby!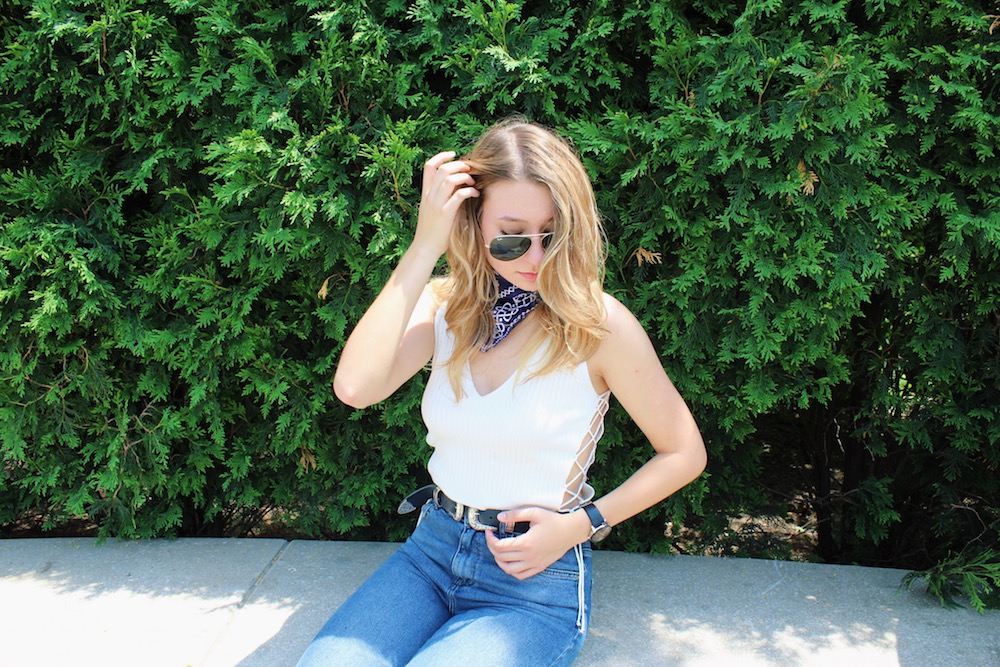 If you own a bandana, it might be what you're used to pulling out to dress up for any country/cowboy themed soiree. Stop! Bandanas don't have to mean saddling up and whipping out the lasso. Thankfully, you've just found a new way to multipurpose your fav western go-to accessory.
Bandanas can be worn in countless styles with limitless combinations of clothing. They are extremely versatile and super inexpensive, which is why they make the ideal casual summer accessory. The best-known version of this look might be in red, but don't be afraid to try out other colors. I've found that navy, black, and white bandanas look extra cool paired with solids of similar shades.
I built a simple outfit around this navy bandana that I found in one of my dad's old clothing drawers. If you don't have a bandana at home, try checking out a thrift store or grabbing one online. It's such a versatile accessory that you can really get as simple as throwing one on with jean shorts and a T-shirt or dressing it up with a jumpsuit. Try rocking one with your favorite summer suit on your next trip to the beach!
I matched my bandana with a side lace-up tank and my favorite pair of high-waisted cropped jeans. I added an extra statement accessory with this belt, tossed on a watch, and finished it off with a pair of black ankle rain boots. You can try mixing it up, and tying your bandana in the front with a french knot or sticking with the standard way around the back of the neck.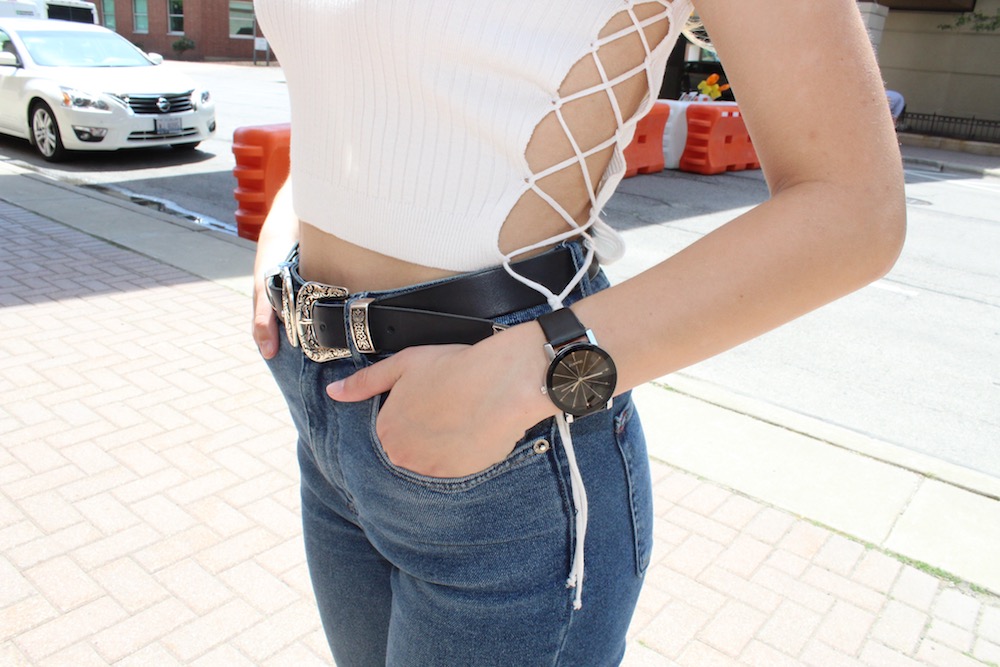 Don't forget about the hair! Rosie the Riveter isn't the only one that can rock the classic bandana-tied-around-the-head. Hair of all lengths, up or down, can make a bandana look cool done up with your do'.
Bandanas make for a super relaxed and chic look that always feels effortless. Recently they've been popular at concerts, festivals, and just about anywhere fashion it-girls reside. However you tie it, it's safe to say this summertime go-to won't disappoint.
Would you wear this trend, and how? Share your thoughts in the comments below!