Summer is approaching fast and that means traveling season is coming! I have done quite a bit of traveling and have come to notice that organization is key when it comes to a quick and comfortable journey. I now have a set of must-haves that I take with me on my trips. With that said, here are my go-to carry-on essentials that might help make traveling efficient.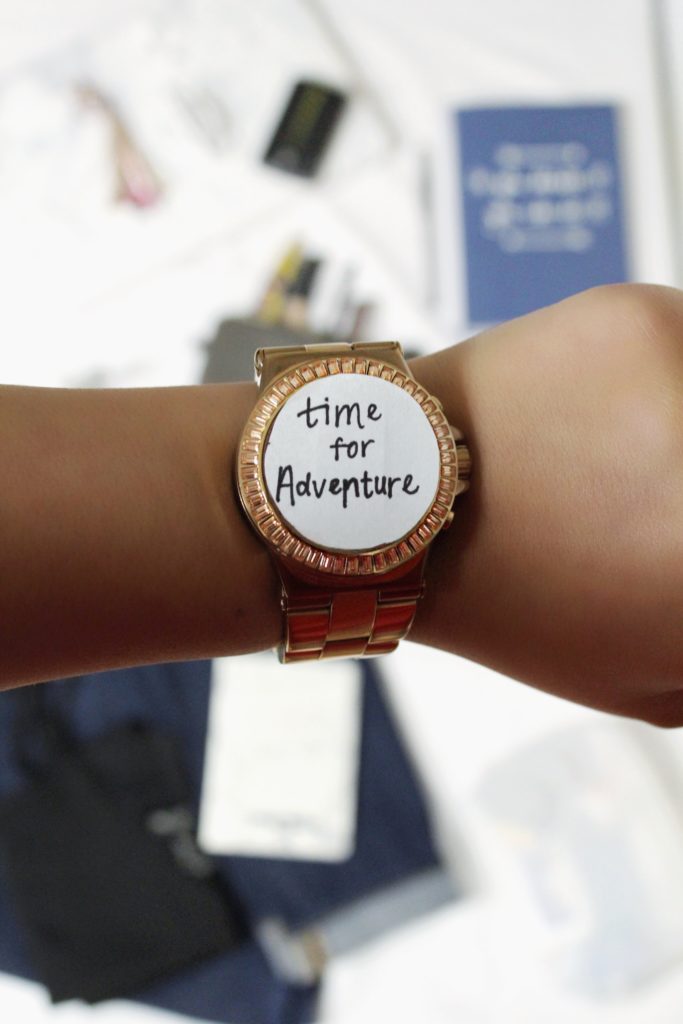 I normally bring a small backpack to put under my seat and a medium size piece of luggage to store in the overhead bins as a carry-on. I don't like to get up frequently during a flight, so stored in my backpack are my most demanded items.
1—Wallet and passport. I always keep these close by, especially before I get on my flight for identification, credit cards, and cash.
2—Laptop. I will usually download a movie beforehand to keep me entertained. Sometimes I'll listen to music if my phone is away.
3—Phone/laptop accessories. These include headphones, chargers, and a power bank for emergencies.
4—Journal and pen. Most of my best ideas/inspiration come when I'm on a flight, so I am always prepared!
5—Jacket and a pair of socks. It's almost always freezing, and I prefer to be as comfortable as possible.
6—Reusable water bottle. This is a good life hack since you can't take liquids through security, and airport drinks can be expensive.
7—Snacks. I prefer to bring something healthy and energizing on my flights rather than relying on airplane snacks.
8—Emergency kit. I may not always use everything in here, but I prefer to be prepared for any situation.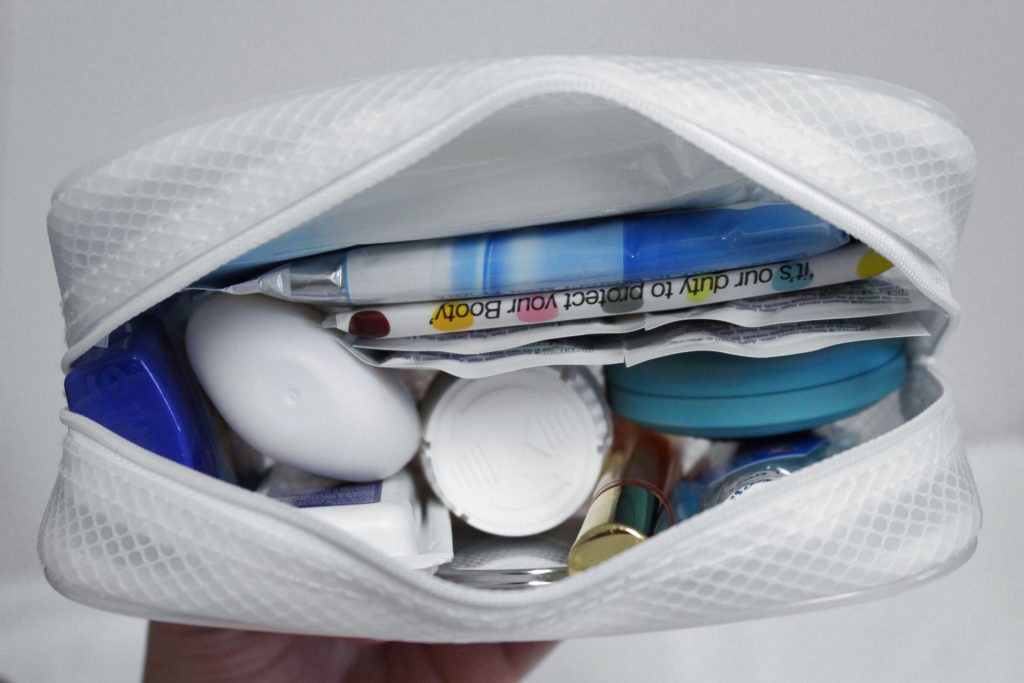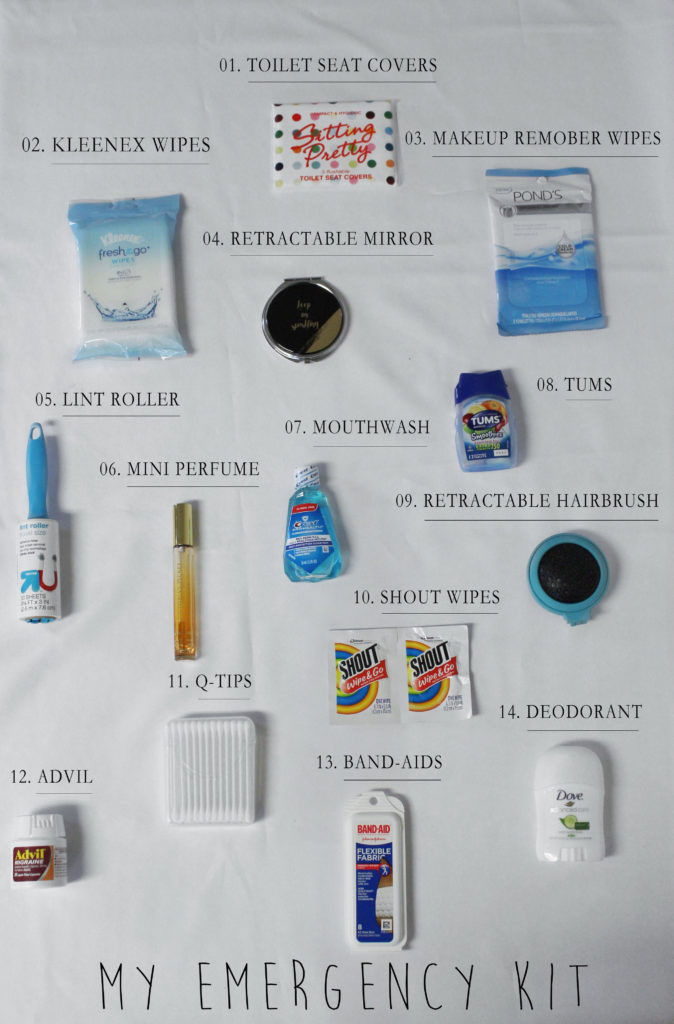 As for my overhead carry-on, it varies upon destination what I bring, but in the rare event my luggage gets lost, I like to have some basics with me.
1—One pair of pajamas. For me, this is usually a graphic T-shirt and some shorts.
2—One pair of leggings. An absolute essential! They're super comfortable and versatile.
3—One pair of sneakers, heels, and sandals. For sneakers, I will typically choose some Converse for their comfort and versatility. A standard strappy black heel always works well, and either nude or black sandals are ideal to get the most use from them.
4—Re-wearable items. Stretchy denim, shorts, a dress, and at least one bathing suit you can hand wash.
5—A few blouses. I will bring some basic T-shirts and something that can be worn for a night out.
I also bring enough underwear and socks to last the amount of time I'm there and a mid-size jacket that can be layered if it's cold.
I also bring along my skincare and makeup bags. Taking care of my skin is so important to me, so I if my luggage does get lost I never skip a day of my routine. I don't put everything in my makeup bag. A majority is in my main luggage, but I can get by with these items. (Anastasia Beverly Hills Brow Wiz in Shade Ebony ($21) is my go-to beauty product).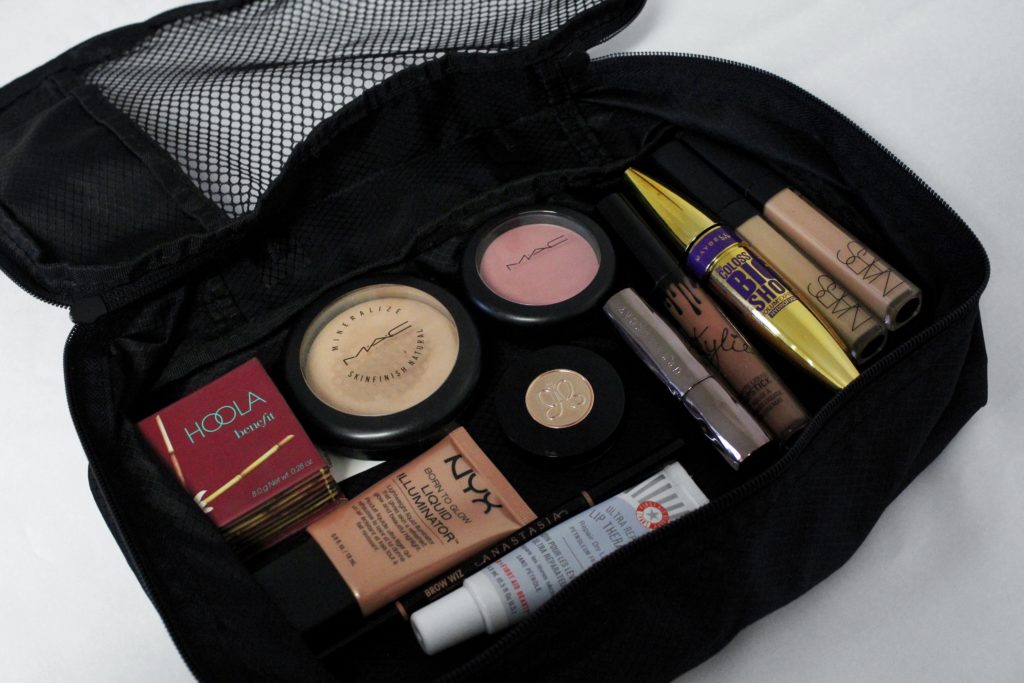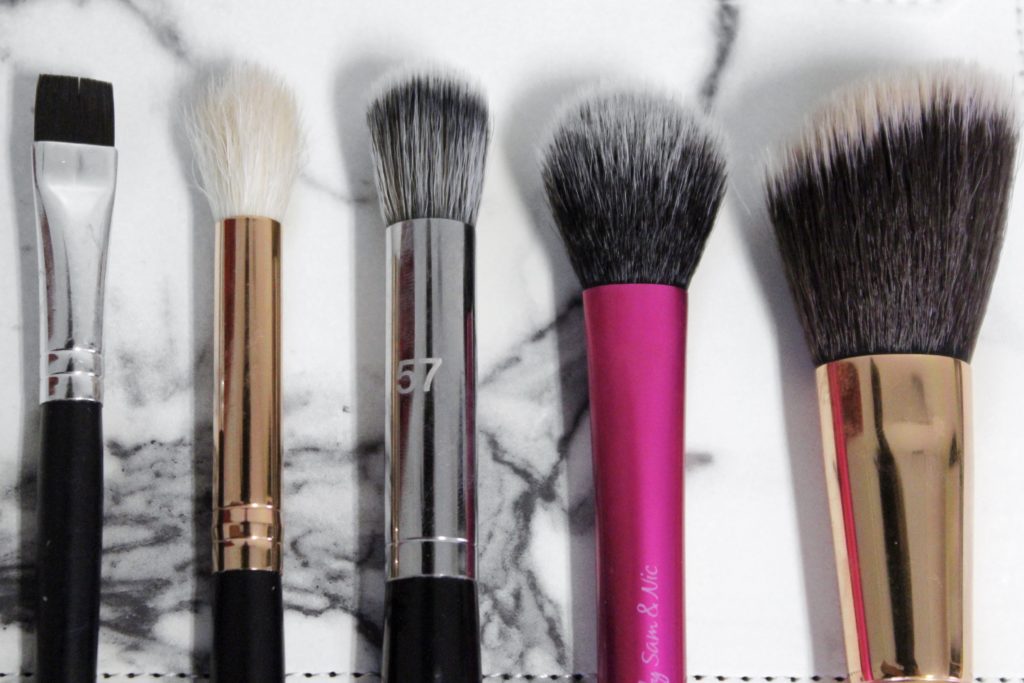 What are some of your carry-on essentials? Comment below and let me know!