Off-the-shoulder shirts are one of the biggest and one of the chicest trends this summer. This shirt style has personally been my favorite go-to piece for every occasion, whether it be a party uptown or a chill day at the park. There's just something about the way the sun hits my exposed shoulders that makes a girl feel invincible! What I love the most about this trend is the fact that it's so versatile. Living in Dallas, where the day life is casual, and the nightlife is popping, I can appreciate a good off-the-shoulder shirt that can be dressed up or down.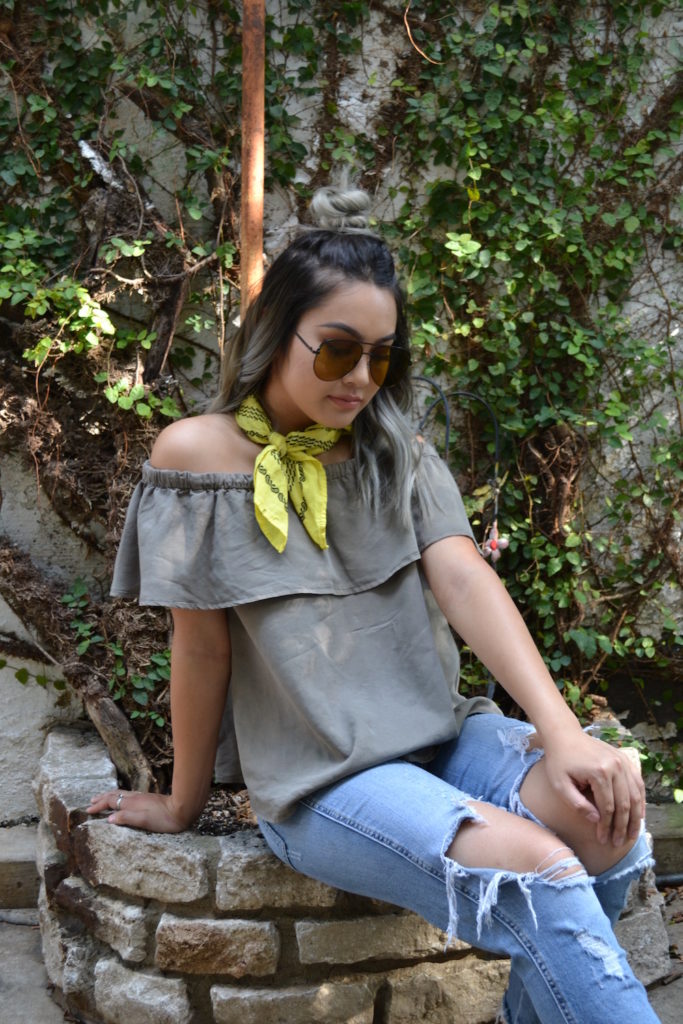 Cute and comfy
The shirt that I styled this look around was a khaki green off-the-shoulder top. For the "cute and comfy" look, I chose to accessorize the shirt with a bright yellow bandana. Yellow has (surprisingly) become one of my favorite colors to wear this summer, plus the bright pop of color really put some personality in this outfit.
Here's a quick tip: If a neck scarf isn't your thing, you could also turn it into a headband, or tie the bandana onto the straps of your purse to bring your outfit to life. I'm also wearing my favorite sunnies from Quay Australia in the color "olive."
I decided to pair the top with some Super Rip Hayden Jeans from Topshop. Let me just say that boyfriend jeans Are. So. Important. In fact, I strongly suggest that everyone should own a pair: These jeans are designed to have a more loose and relaxed fit so that you can feel comfortable and look cute at the same time. The pair that I'm wearing in the photos are cropped at the ankle which I love, because it made this outfit look casual.
To finish off the "cute and comfy" look, I chose satin bow slides from Zara. Choosing which pair of shoes to wear for the day is honestly one of the hardest decisions for a girl to make. Slides are simply the easiest shoes to wear, and these silk ones are crazy comfortable. Both the color and the material looks very chic, and I think it complemented my outfit well. What do you think?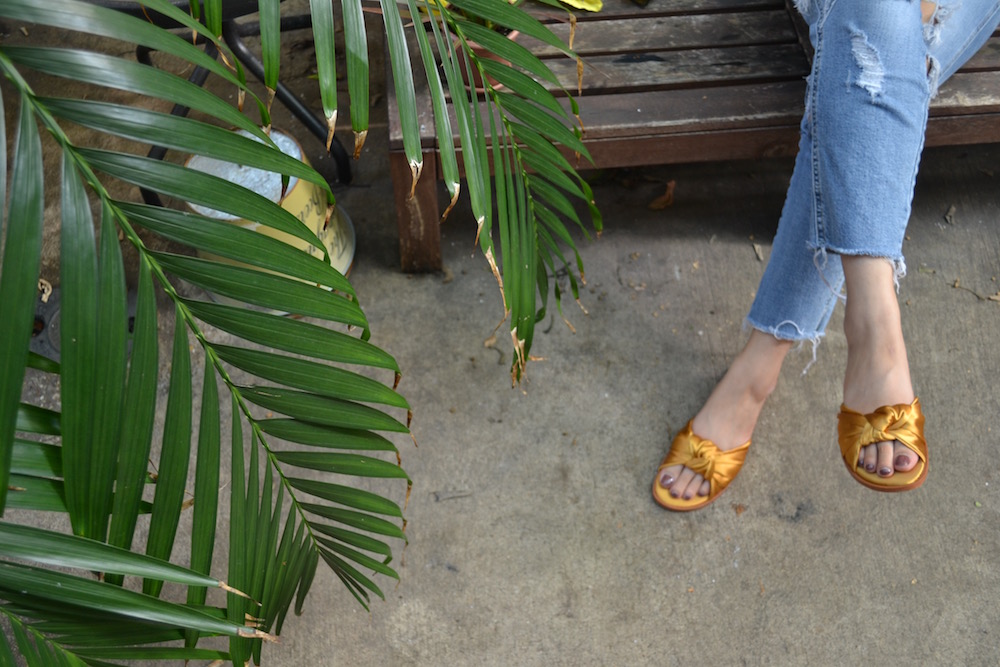 Bad and boujee
To switch up the look, all you'd need to do is change the accessories! For the look below, I styled the same top, demonstrating its versatility. This time I'm going for the "bad and boujee" look. Instead of the bandana, I threw on a silver statement necklace and some hoop earrings. Jewelry is everything.
I switched out my baggy boyfriend jeans for some black skinny jeans which I cuffed and paired with my favorite nude heels. The power of accessorizing is the secret to this transformation, and it makes all the difference.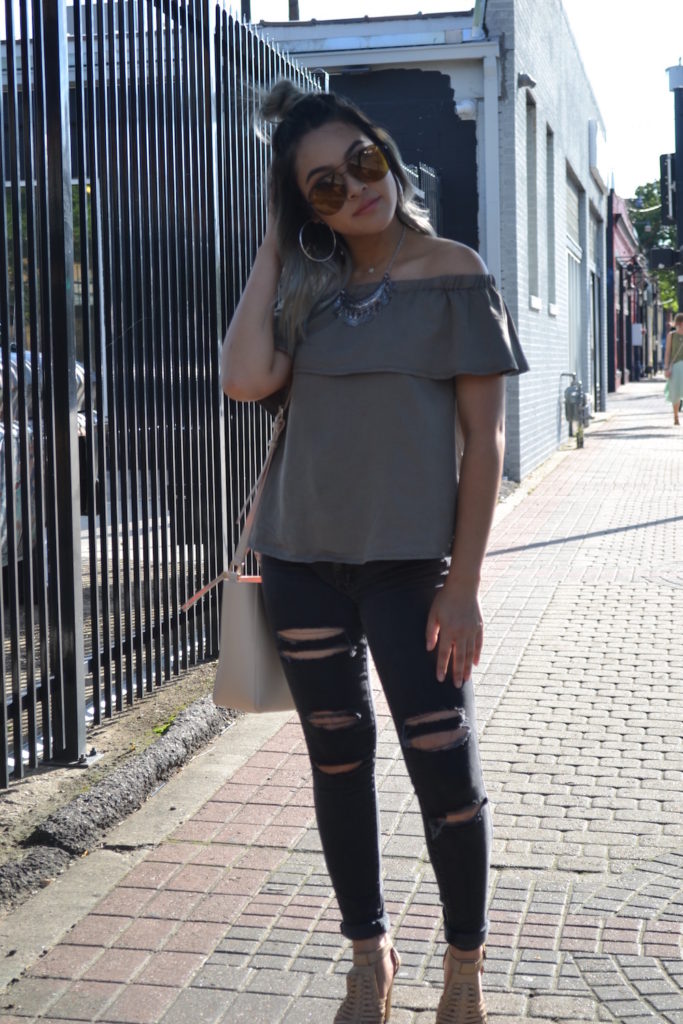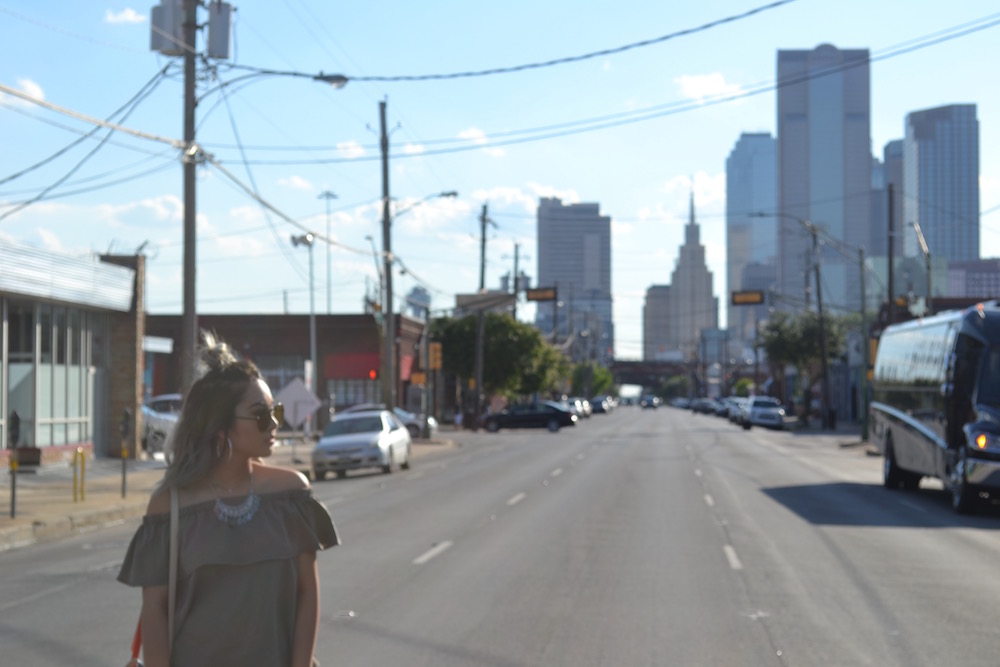 How do you style the off-the-shoulder trend? Keep slaying and show us on social media! Don't forget to tag @CFashionista!