Raise your hand if you think the Nordstrom Anniversary Sale should be a national holiday (trust me, I'm raising mine). It's arguably one of the best sales in fashion, and I'd be lying if I said I didn't not-so-patiently anticipate it each year—it's just so good. As usual, this year did not disappoint, but for the past week, only those lucky Nordstrom card holders have had access to the incredible deals. However, that all changes today. The Nordstrom Anniversary Sale is now open to the general public—so run don't walk to your nearest store or head over to their website before August fifth. From summery staples to pieces that will take you all the way through winter, I guarantee you'll find exactly what you're looking for (and probably also something you never knew you needed). Below, our College Fashionista Community Members share the deals they're dying to get their hands on. Get your wallets ready—there's bound to be something you need to add to your shopping cart.
A Romantic Midi Dress
Our Pick: Free People Lost In You Midi Dress ($77)
Why We Love It: "I love this dress because it's the perfect transition piece from summer to fall. It's still hot out enough to wear a dress, but the pattern, cut, and colors give me serious fall vibes. I also the love V-neckline and the button detail that accentuates the bodice. I would style this dress with a pair of white sneakers and some cat-eye shades during the day, and a pair of strappy mid height heels and a fun yellow crossbody at night. The 40% off is such a great deal for a versatile and timeless dress like this one!" — Arianna Baquerizo, University of Florida
The Perfect Everyday Bag
Our Pick: Madewell Lafayette Leather Bucket Bag ($130)
Why We Love It: "I'm loving the Madewell bucket bag! It's a trendy take on a classic leather bag. I'd say it's a good deal for something I'd get a lot of use out of. Since it's really versatile, I'd style this with anything really. I could see this bag pairing well with jeans, a button-down, and some mules, or even with a little wrap dress and sneakers." — Corinne McGovern, Marist University
A Work-Ready Blazer
Our Pick: J.Crew Dover Blazer ($132)
Why We Love It: "I would buy this blazer because of the color and versatility it has. I love that I would be able to wear it to work with my black ankle pants for a nice summery color blocking and then on weekends for a casual outing in denim and sandals. The color is also a great tone for summer but can also work well as the season transitions because it is not so bright. I know this is a piece I would wear multiple times a week, and that's why I think this such a great deal." — Venesa Coger, College Fashionista Alum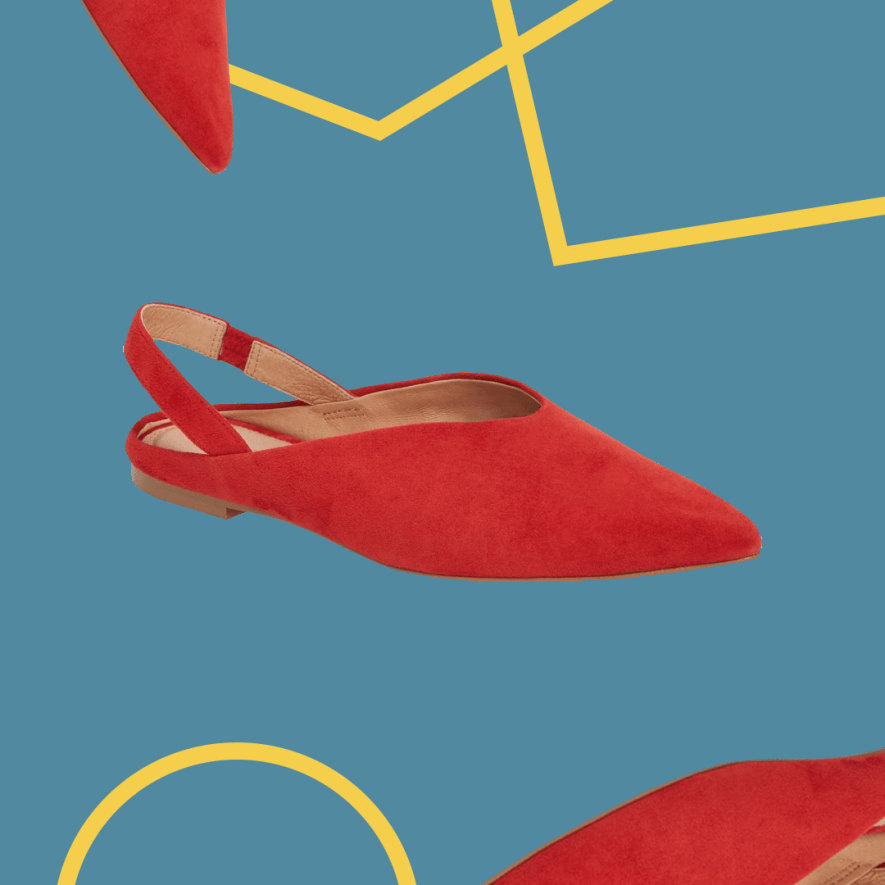 Chic Slingback Flats
Our Pick: Halogen Sadie Slingback Flat ($65)
Why We Love It: "Aren't these little mules the cutest things ever? The color would be perfect to transition into fall but I'd also wear these for the remainder of the season with a summery sundress. I'm just so obsessed with the sleek, classic style." — Mackenzie Hackbarth, Kent State University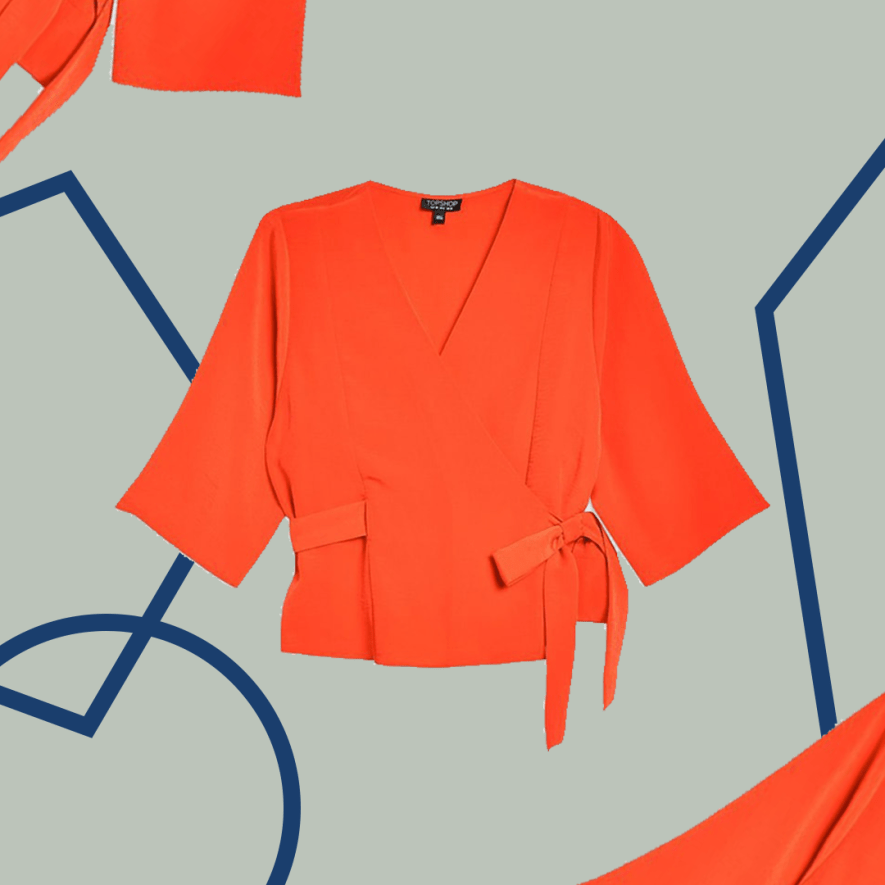 A Bold Wrap Top
Our Pick: Topshop Kimono Wrap Blouse ($40)
Why We Love It: "I absolutely love the wrap blouse trend—my closet is slowly filling up with the piece. I love the statement sleeves of this piece and boldness of the red color, especially for a summer day. I love wearing black skinny jeans with wrap shirts for a chic look or even a denim skirt to give a softer vibe. Throw on platform sandals, hoop earrings, and some gloss, and the outfit is complete." — Allie Sarachene, Kent State University
A Polished Fall Coat
Our Pick: J.Crew Olga Boiled Wool Top Coat ($185)
Why We Love It: "This jacket is such a versatile style in a bright and fun color. I love that it's made of boiled wool, because that makes it lightweight and cozy. Plus, the pockets are big enough to hold my phone (and we all know pockets like these are a rarity in women's clothing). I'd style this coat with a leopard print scarf wrapped around my neck with a black tee or lightweight sweater tucked into a pair of high rise jeans. To finish the look, I'd pull my hair into a topknot, throw on some tortoiseshell earrings, and add a pair of black loafers." — Jacqueline Kenny, University of Michigan

An Approachable Take on the White Boot Trend
Our Pick: Steve Madden Petra Open Side Bootie ($80)
Why We Love It: "White boots are a perfect trend right now and this is a slightly edgier take with the snake texture. Plus, they're much more approachable than a stark white boot. I'm pretty minimal in my styling, so I'd wear them with a good pair of straight legged jeans and a T-shirt, maybe a blazer if I had to look fancier. These would also look great in the fall with a denim skirt and a sweater. These boots are so versatile though, so you couldn't go wrong—they're multi-seasonal and definitely affordable." — Kate Stuart, Belmont University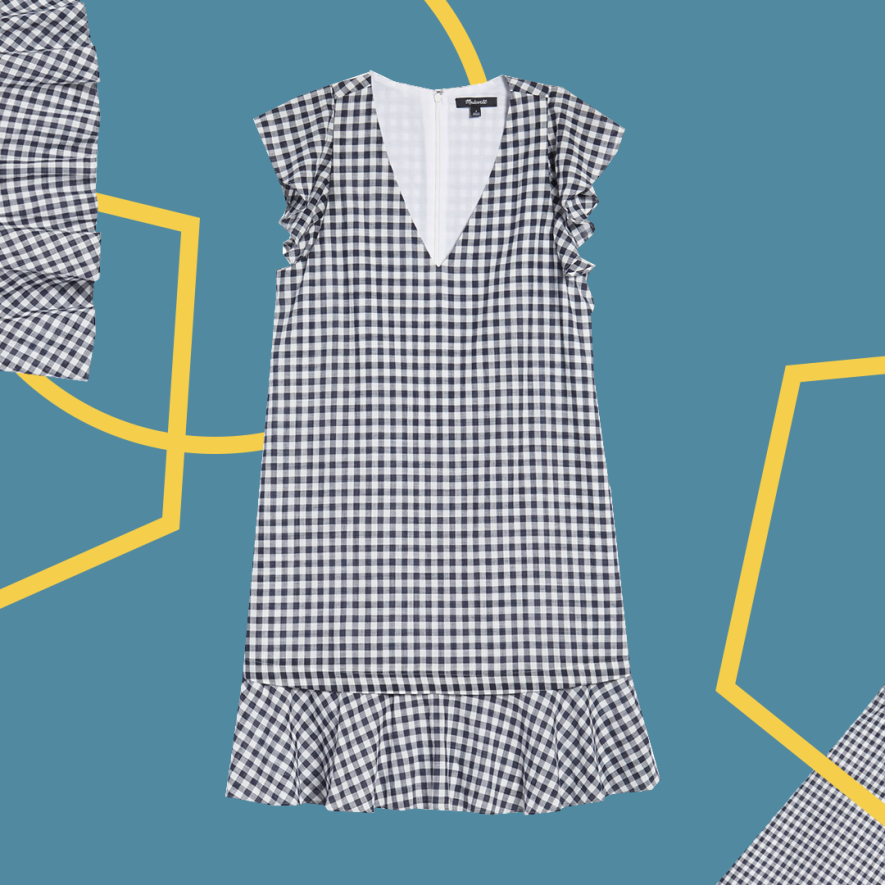 A Versatile Printed Dress
Our Pick: Madewell Ruffle Gingham Shift ($65)
Why We Love It: "I am going to buy this dress the second I can! It's the perfect piece for the current summer season as well as for the transition to fall. It can easily be paired with a denim or leather jacket to go from a day in SoHo to dinner in the Upper West Side. I love to buy Madewell pieces because although they usually are a bit pricier the quality explains it all. With this piece being 35% off, this dress is a steal." — Sarah Rosen, Stern College For Women
Easy Wide-Leg Pants
Our Pick: WAYF Wide Leg Trouser ($46)
Why We Love It: "These wide-leg trousers immediately caught my eye. I'm always looking for a nice neutral pair of pants and these look like such good quality. I would pair these with a colorful cap sleeve top and some flats for work, or dress them down with some sneakers and a fun graphic tee for a more casual look!"—Avery Rizzotto, University of South Florida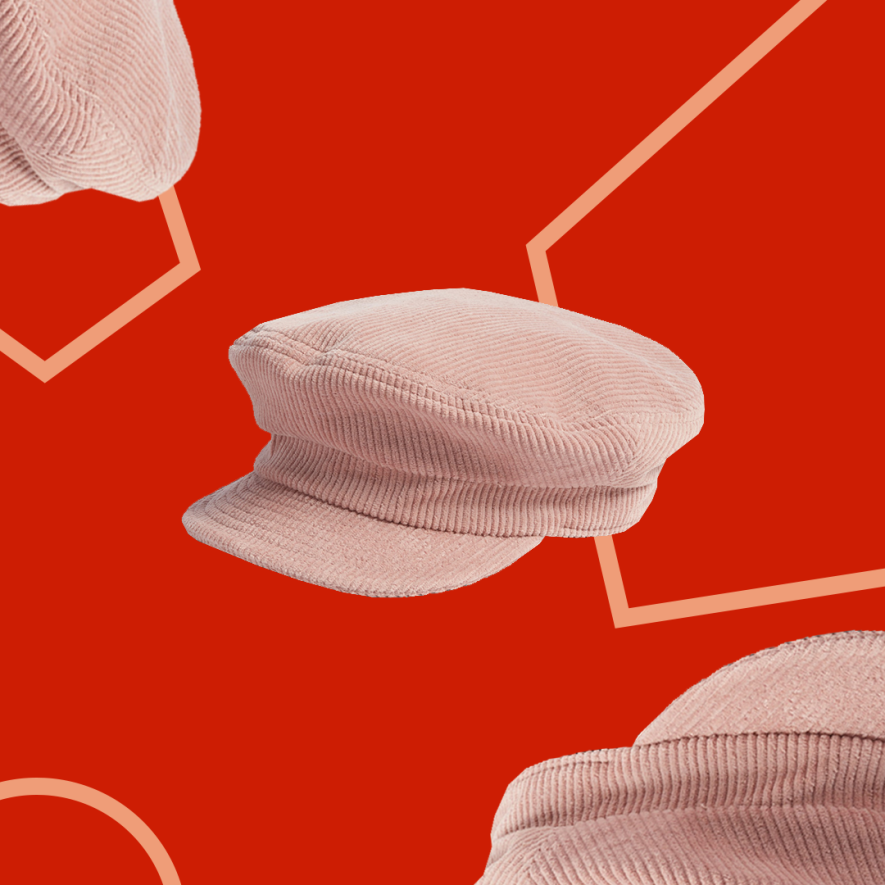 A Trendy Newsboy Cap
Our Pick: Brixton Fiddler Corduroy Baker Boy Cap ($32)
Why We Love It: "Newsboy caps have been one of my favorite trends lately! I've always had my eye on the Brixton brand but have been a little hesitant to buy because of the price tag so I was so happy to learn that this gem is on sale! I love the soft pink color of this hat and I think the corduroy fabric is especially great for fall but would work during any season. This hat goes with everything but I'm excited to wear it with a jumpsuit and sandals during the last few weeks of summer." — Nicole Akerman, University of Florida
Need even more shopping inspiration? Click here for the summer sunglasses you need to buy right now based on your zodiac sign.