Presented by College Fashionista x Hallmark
This is a sponsored post. All opinions are 100% our own.
As a super sentimental person, one of my favorite ways to show someone I care is by sending a greeting card from Hallmark. Whether I want to congratulate a friend, show support during a tough time, or simply brighten their day with a positive message, I love how sending a card is a simple yet meaningful gesture that goes a long way. Whenever I receive a greeting card from a loved one, I hold onto it as a reminder of the amazing people and relationships in my life. And if you've received a greeting card recently, saving it can be a special reminder that you are loved and appreciated.
Rather than keeping my collection of greeting cards stored away in a box, I've always wanted to find a creative way to showcase the special messages and memories I've collected over the years. I recently saw a friend make a gallery wall out of her favorite Hallmark cards, and I can't get enough of this cute (and genius!) idea. Creating a gallery wall is such a fun way to revamp your space and dress up any area with a boost of color and positivity. If you love greeting cards as much as I do and are ready to create your own gallery wall showcasing your favorite memories, here is some inspiration from our community.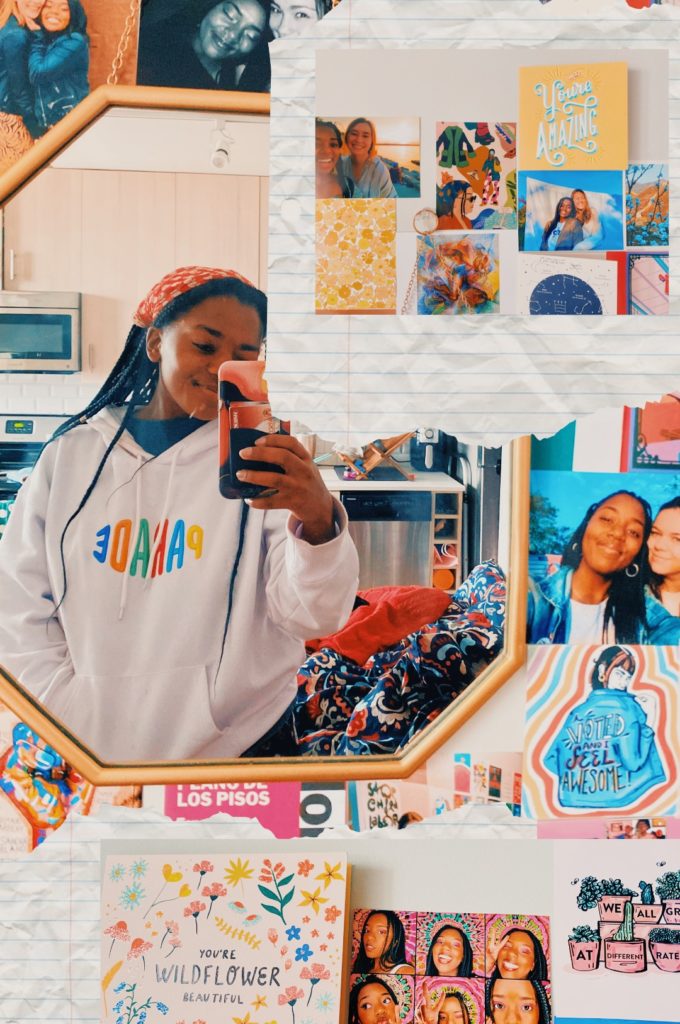 Seriously, how fun and thoughtful is Tamia's gallery wall?! I love the bright, cheery colors and how her favorite greeting cards frame her mirror, making it a colorful, encouraging place to get ready each day. You can tell this corner of her space is full of good vibes, and I appreciate how Tamia included fun pics with her friends, too. There's something about creating a designated corner of your space dedicated to showcasing meaningful memories. This gallery wall is a reminder to surround yourself with things that make you smile.
Decorating your space with sentimental cards and memories can make any day brighter — plus, an encouraging message like the You're a Gem card can remind you that you're exactly enough as you are. I love how Katelyn's cards are hanging vertically above the headboard for an artsy look, and her gallery wall serves as a great reminder to stay positive when you get out of bed each day. Get creative and have fun with your own gallery wall — after all, it's all about creating a space that feels good for you!
I can't get enough of Belen's beautiful gallery wall and how she styled it with string lights, decorative memorabilia, and her favorite greeting cards like this Positive Vibes Only card from Hallmark! There's something extra special about decorating your work-from-home space or vanity with cards, photos, and colors that inspire you, and Belen's gallery wall serves as great inspiration for how to create a welcoming and sentimental corner. This is a space I'd 100% want to spend time in each day, and honestly, after seeing Belen's gallery wall, I may have to revamp my at-home workspace ASAP.
You can tell from Jennifer's TikTok that she and her friends have a total blast together, and I love how her gallery wall captures the unique, meaningful relationships in her life. The gallery wall is also super creative with a mix of greeting cards, twinkling lights, inspirational quotes, and photography for a look that's personalized and sentimental. Sending and receiving greeting cards is such a fun way to strengthen the relationships in your life, and Jennifer's gallery wall is an amazing representation of that!
There's something about showcasing your favorite greeting cards on a gallery wall that feels extra special and adds a bit of spark to any space. Plus, it's a reminder that relationships matter, regardless of how far away you might be from your loved ones. Even if you already have some wall decor at home, your favorite greeting cards do more — they're a reminder of good times from the past, and serve as a reminder that good times are on the way. This weekend, try revamping your wall decor with cards you already own and transform your memories into something you'll remember for a lifetime.