Confession: I've never actually been to Austin. It's been on my list for a while, though, and since I wrote this city guide, it's quickly moved to the very top of my must-visit places. If you're wondering why, you're about to find out—because thanks to the recommendations of the College Fashionista community, we curated a list of places so cool you won't be able to resist making a trip to see them. Whether you're a new student exploring the city, an old student looking for new kicks, or you just want to show your parents a really good time for the weekend, here are all the must-dos the next time you find yourself in Austin, Texas.
Must Drink: Some Caffeinated Beverages at Lucky Lab Coffee
Why you should go: According to Xyclali Nunez, a student at The University of Texas at Austin, they have delicious seasonal menus and great treats.
Xyclali's insider tip: It's super Instagrammable and great for just sitting down for a good 30 minutes to relax or to nail down some work stuff. There's also a great patio.
Cost: It depends on how much coffee you drink!
Where it's located: Lucky Lab is inside Space 24 Twenty by Urban Outfitters by the UT Austin campus. The address is 4814, 2421 San Antonio St., Austin, TX 78705.
Why you should go: Soni Solano, a student at the Fashion Institute of Technology, loves this place for its tacos, which should come as no surprise considering the name. It's also important to note that not one, but four other students recommended this place as well.
Soni's insider tip: Get the shrimp or the breakfast tacos—they're insanely good.
Cost: How many tacos can you eat?
Where it's located: There are tons of locations in Austin, and you can view them all here.
Why you should go: It's got some of the most beautiful and creative architecture in Austin according to Hanna Searcy, a student at Texas State University.
Hanna's insider tip: It's also a haunted hotel! According to Curbed, "A spirit that might or might not be Driskill has been reported to operate the elevators, move furniture, push guests out of their beds, and hide their belongings." So if you stay there or just stop by for a visit, maybe just watch out for ghosts.
Cost: Rooms are pretty pricey, but it costs nothing to stop by and look.
Where it's located: The Driskill's address is 604 Brazos St., Austin, TX 78701.
Why you should go: Lauren Bacher, a student at the The University of Texas at Austin, says this is the cutest vintage store with a great variety of clothes, decor, and accessories.
Lauren's insider tip: They sell items from a bunch of different vendors, so there is truly something for everyone at different prices. You can easily spend hours here!
Cost: There is a big range of prices, but the store maintains a focus on affordability.
Where it's located: I Luv Vintage's address is 2915 Guadalupe St., Austin, TX 78705. It's walking distance if you head north from The University of Texas campus.
Why you should go: Xyclali says this recreational outdoor swimming pool is a great spot to cool down with a friend.
Xyclali's insider tip: The pool is located in Zilker Park, and it's filled entirely with water from natural nearby springs.
Cost: Daily entry fees range from $3 to $8.
Where it's located: You can find the pool within Zilker Park at 2201 Barton Springs Rd., Austin, TX 78704.
Why you should go: This boutique hotel has a bevy of stunningly designed spots, including restaurants, cafés, and a rooftop pool. Xyclali loves it for the perfect minimalist Instagram moment.
Xyclali's insider tip: The hotel is located in the South Congress district, which is a fantastic area to spend time shopping and eating.
Cost: It really depends on whether you stay here, eat, or just visit. You can find more information about the hotel here.
Where it's located: The hotel's address is 1603 South Congress, Austin, TX 78704.
Why you should go: Lady Bird Lake is the perfect place to go paddle boarding, take a boating tour, or just relax. Hanna especially loves to go an stroll along the boardwalk.
Hanna's insider tip: The Lady Bird Hike Trail is located within walking distance of downtown Austin, where tons of great hotels, shops, and restaurants are located.
Cost: There's no cost unless you're planning to rent some type of boat or paddle board at the lake.
Where it's located: The lake is located in downtown Austin on the Colorado River, with a surface area of over 400 acres.
Why you should go: Xyclali loves to visit this museum for something fun to do on the weekends or as a great way to impress the parents. It's also another great place to get some solid Instagram shots.
Xyclali's insider tip: The museum has tons of artwork! In fact, according to its website, it "has the largest and most comprehensive collection of art in Central Texas," and its "permanent collection of more than 17,000 works is recognized for its European paintings, an encyclopedic collection of prints and drawings, and modern and contemporary American and Latin American art."
Cost: Admission is $9 for adults and free for college students with a valid ID.
Where it's located: The museum is at The University of Texas at Austin. Its address is 200 E. Martin Luther King Jr. Blvd., Austin, TX 78712.
Planning your trip? Save our map of Austin, Texas below to your Pinterest, or print it out to take with you on-the-go!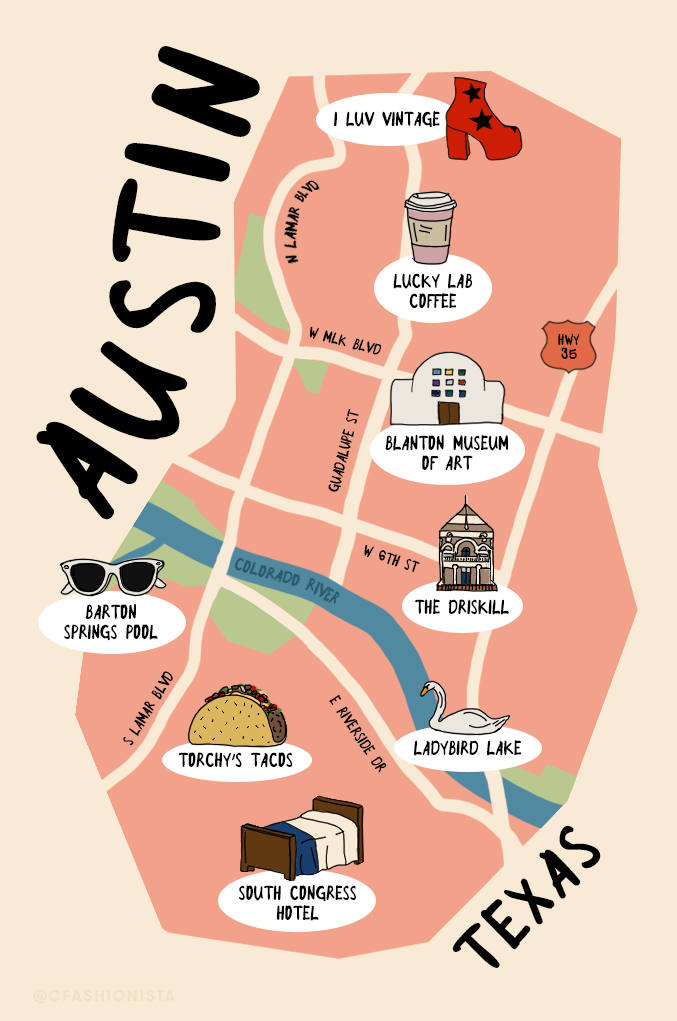 Opening image by Aanchal Bakshi. Artwork by Kali Concepcion.