If you're someone that wears foundation everyday, you know the importance of finding something that you can count on each and every day to perform to the ability you want it to. Whether you look for coverage, finish, or just an affordable price tag, finding your holy grail foundation is an irreplaceable feeling. I was curious to see what other girls love as their go to foundation, so I asked some Style Gurus what their favorite products are.
Sofina Basset: I don't like wearing a lot of foundation for every day, so I like the BareMinerals BarePRO. It's a powder foundation so it's super easy and quick to apply and it doesn't feel heavy. It makes your skin look amazing in photos and it covers up any redness, which is what I need. It's also really build-able, so I usually take a smaller brush and apply extra to places that need more coverage.
Gabrielle Scherer: CoverGirl Simply Powder foundation has hands down been my saving grace since middle school. It provides such beautiful coverage for a drugstore brand, completely camouflaging my harsh dark circles and imperfections. People are always expecting me to spit out an expensive brand when they ask what makeup I use, but this product has been my go-to for years. It looks good AND it's easy on your wallet, so who can really judge?
Tiffany Kwong: My favorite foundation is Chanel's Les Beiges Healthy Glow Foundation Broad Spectrum SPF 25. I have awful combination skin, and normally foundation either makes me break out or it doesn't cover enough and is cakey. I've gone through so many different brands of foundation, but this one is the best! It feels so light on your skin, has great coverage, and isn't dry or oily. My skin tone is also so hard to match because I'm a weird combo of pink and yellow undertones. This is the first foundation to match me perfectly! It's a bit pricey, but so worth the price tag.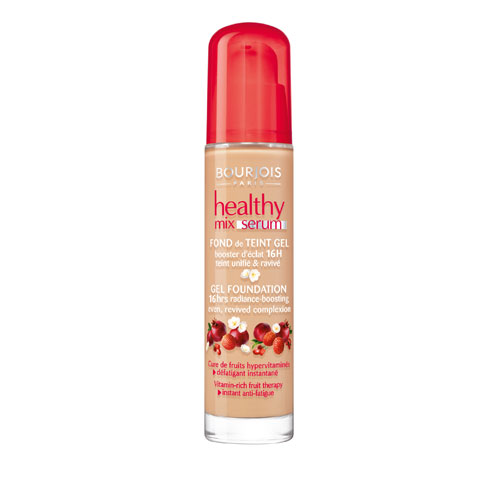 Bianca Canales: So a unique foundation that is actually the "drugstore" version of Chanel Makeup is a brand called Bourjois. I LOVE the Fond De Teint Healthy Mix Serum Foundation it smells like fresh fruit and it is a step above BB Cream but a step below heavy foundation. Unfortunately, it is not sold in the US (I got it in Canada) and there is only a five shade color range but besides that I think it is a unique foundation to mention.
You might find your favorite foundation at your local drugstore or Sephora. The main take away is that it doesn't matter where you purchase it or what brand it might be, as long as your foundation makes your feel comfortable in your skin. Finding what best suits your needs and also makes you feel your best is what is important in searching for your go-to foundation.