Ever since you and your high-school squad started sporting the collegiate apparel of your soon-to-be schools, you knew that many of your best friends would soon be moving to colleges miles away. Whether you ended up with one or two long-distance pals or tons of friends scattered from coast to coast, it's always nice to remind your BFFs that you're thinking of them. For a "just because" gift, a thoughtful care package is a great way to show your besties that you still love them. So, we've put together a compilation of college care package ideas for every type of long-distance friend in your life.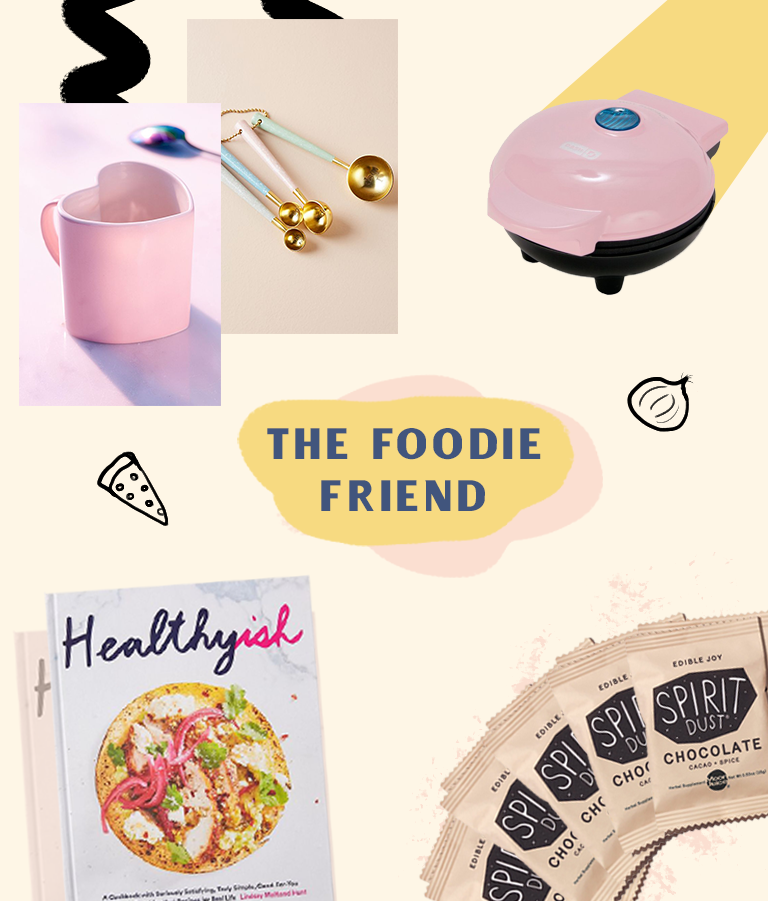 The Foodie Friend
Moon Juice Spirit Dust Chocolate Six Pack ($25): We all know that one friend who always has food on their mind, whether they're scrolling through foodie accounts on Instagram or living by the motto of "the phone eats first" when they're staging the perfect picture of their lunch. Fill their care package with treats that not only taste good but do good—like this chocolate packed with "super herbs" that combat stress.
Healthyish by Lindsay Maitland Hunt ($30): A recipe book is essential for any food-loving friend, especially for college students on the hunt for healthy and easy meals. This one includes recipes for breakfast, lunch, dinner, and dessert to help your friend whip up some of their own culinary creations.
Urban Outfitters Coffee Lover Mug ($12): While coffee isn't technically a food, it's definitely part of every college student's food pyramid. Whether the mug is purely for the Instagram shotor serves as a daily reminder of your friendship, it's a great addition to any food-centric care package.
Anthropologie Pastel and Brass Measuring Spoons ($28): Measuring spoons are a key utensil when it comes to baking, so they might as well be pretty, too. These soft-hued spoons will not only look great hanging in your friend's kitchen, but will also help them prepare some delicious baked goods.
Dash Mini Waffle Maker ($10): Sunday brunch is arguably the best meal of the week, so give your friend the gift of being able to make theirs without even having to change out of their pajamas. Even better? With this mini waffle maker, you have the option of having breakfast any time of the day.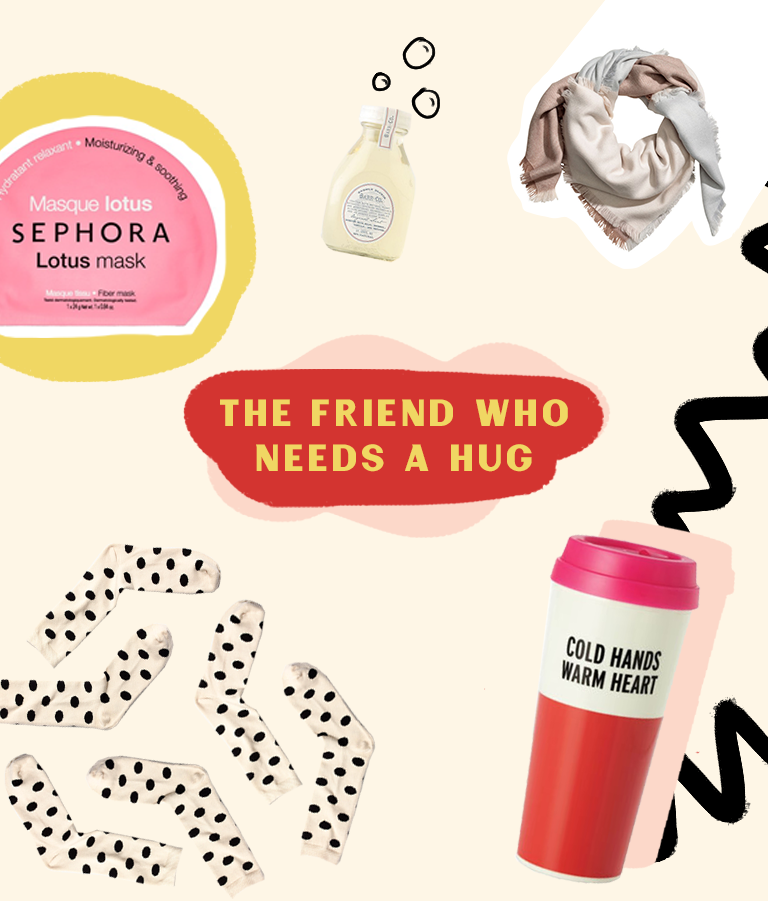 The Friend Who Needs a Hug
Kate Spade New York Cold Hands Warm Heart Thermal Mug ($18): Sometimes, all we want is to send our long-distance pals a virtual squeeze, and a care package filled with cozy and soothing essentials is about as close as you can get. Start by including a travel mug so they can keep their drinks warm on the go (especially during the cold winter months).
H&M Large Scarf ($20): A soft knit to bundle up in will help your friend stay cozy on their commute to class. In a neutral color-block design, this scarf will match with almost any outfit, making it perfect for your bestie to throw on on their way out the door.
Madewell Dot Trouser Socks ($10): You can never go wrong with this care package addition. Not only are socks something that almost every college student magically loses in the wash, but they can add a little personality to an outfit when you buy them in fun colors and designs.
Barr-Co. Bubble Elixir ($24): A warm bath at the end of the day is one of the best ways to unwind. With plant and oatmeal extracts and a light vanilla scent, this product will definitely help your bestie de-stress.
Sephora Collection Face Mask ($6): If you really want to help your friend upgrade their end-of-day relaxation session, send them a face mask to use as they unwind in the bubble bath. They're easy to apply and remove, and are guaranteed to leave your bestie feeling revitalized.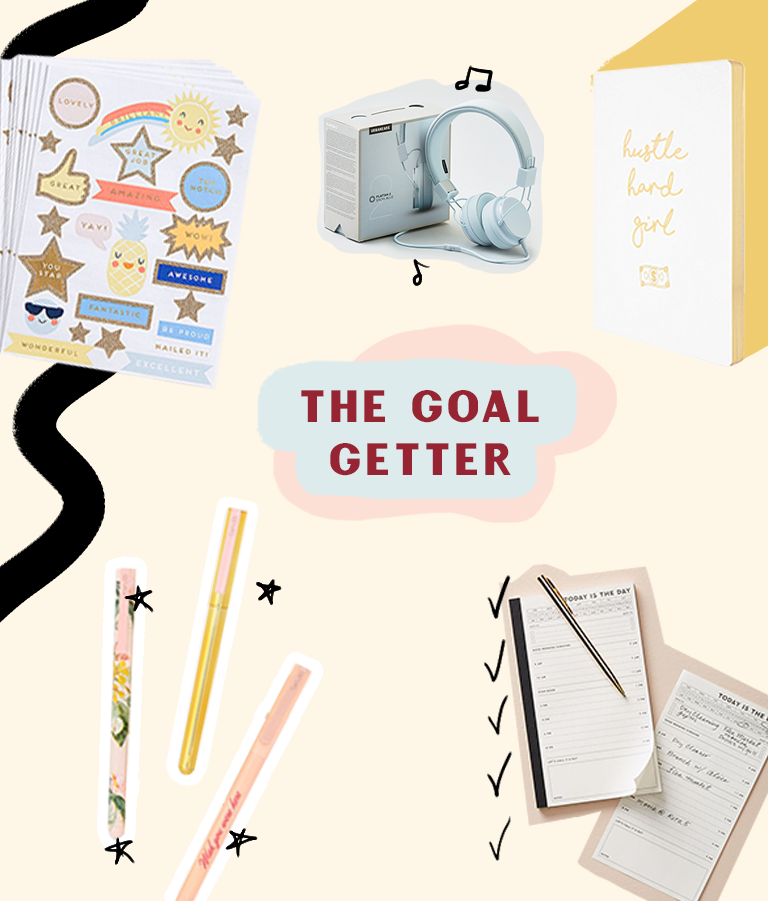 The Goal Getter
Urbanears Plattan 2 Headphones ($49): This one is for the friend who's ready to take over the world one step at a time. Include a pair of chic and comfortable headphones that's, perfect for their daily podcast listening.
Skinnydip Hustle Hard Notebook ($14): Whether they're hustling at an internship, starting a new club on campus, or leading a club as president, your friends need the right notebook. This can be used as a planner or for making lists and is complete with a motivating cover to help them power through even the hardest days.
Ban.do Write On Pet Set ($14): To complement their new notebook, give your friend a stylish pen set. With three different designs, they won't run out of writing tools that will allow them to help jot down notes in class.
Paper Source Meri Meri Reward Stickers ($9): Everyone needs to be recognized for their hard work, especially those who never stop hustling. Show your friend that you admire their ambitious spirit with a set of encouraging stickers that they can use to decorate their agenda or even place on their mirror for some daily motivation.
Anthropologie Today Is The Day Notepad ($10): Give the busiest friend you have even more organizational assets with this daily calendar of to-dos. With a space to write down the day's goals and sections to break down appointments, meetings, and tasks by the hour, this notepad is sure to help your friend stay on top of it all.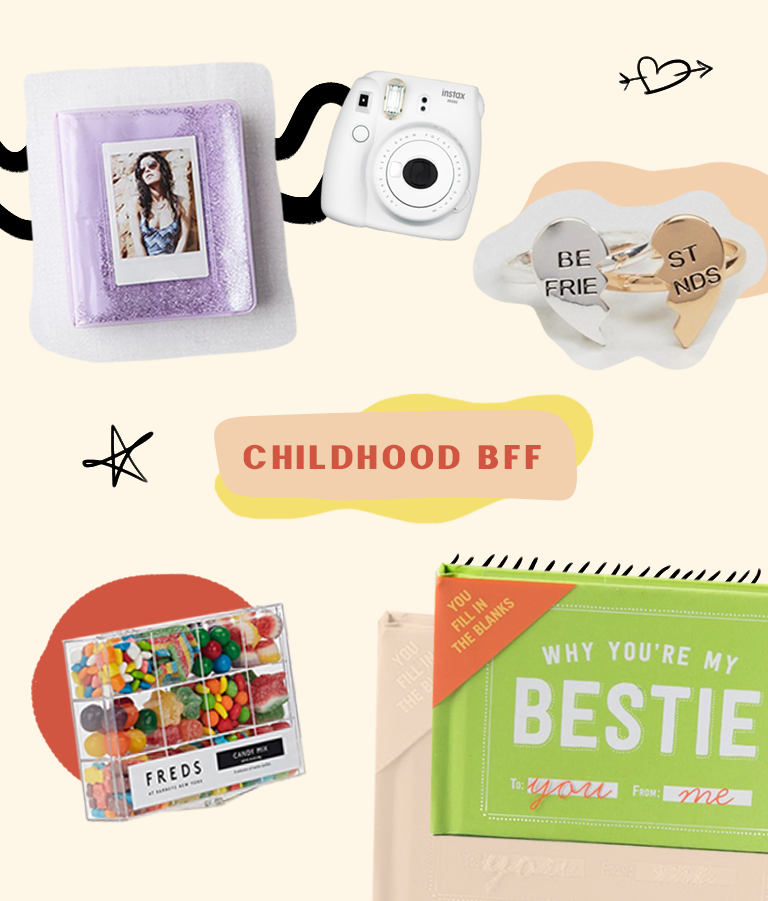 The Childhood BFF
Instax Liquid Glitter Photo Album ($12): For that one friend you've had since elementary school, you can't go wrong with a care package full of nostalgic vibes. Pack this shimmery photo album with some of your favorite throwback shots and your favorite recent selfie on the cover.
Freds at Barney's New York Candy Mix Tackle Box ($25): Every college care package needs a few sweets your friend can snack on while they're studying. That's what makes this roundup of all the classic candies you used to snack on the perfect treat for your childhood bestie.
Monki Broken Love Heart Best Friend Rings ($8): An upgrade on the classic two-halves-of-one-heart necklaces that were a staple in your early 2000s jewelry collection, these best-friend rings are the grown-up iterations you need now. Pack one in the care package and save the other one for yourself so you'll always feel connected no matter where you are.
Francesca's Why You're My Bestie Book ($12): If you're looking to add a sentimental touch, fill this book with all the little things that you love about your BFF. This personalized touch is sure to show your best friend that they're always on your mind, even if they're hundreds of miles away.
Fujifilm Instax Mini 9 Instant Film Camera in Smokey White ($69): Take fun photos with this Polaroid camera and put them in the glitter album you included. Pack some film along with the camera and get ready for a photoshoot the next time you visit.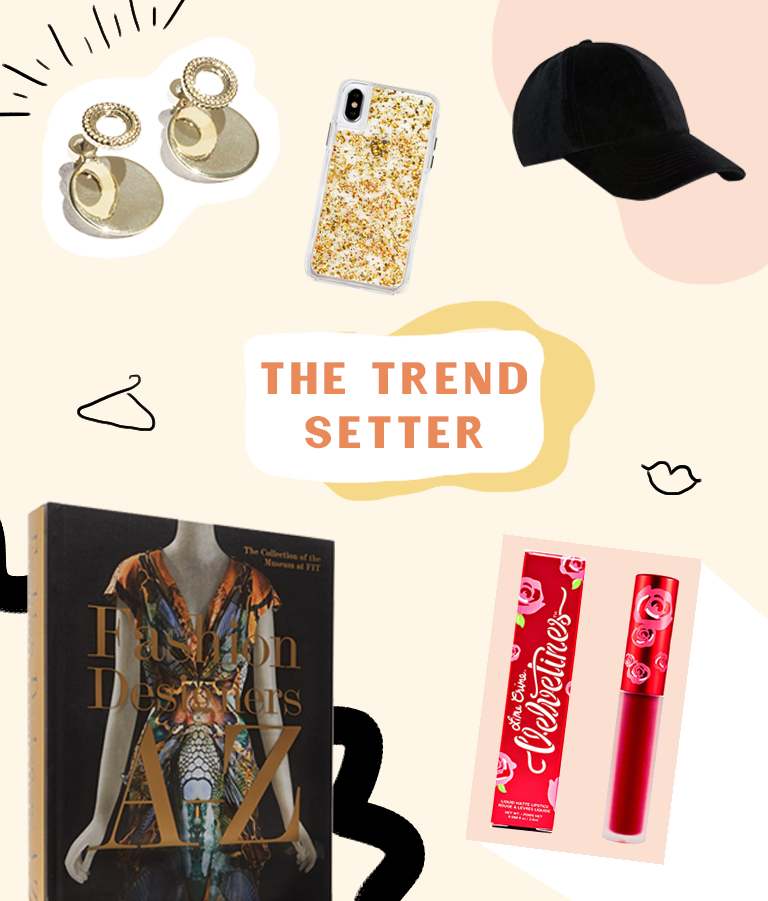 The Trendsetter
Velvet Caviar Gold Flakes Dual iPhone Case ($30): You know your one friend who's majoring in fashion merchandising, is always trendy from head-to-toe, and has a life plan based on becoming the next Miranda Priestly à la The Devil Wears Prada? This one's for them. Start your package with a glittery phone case that's perfect for a little added tech glamour.
& Other Stories Circle & Plate Earrings ($19): Every aspiring fashion editor needs a jewelry collection to complete their ensembles, and these earrings are a staple that can easily transition from day to night. Your friend will love that they can wear these with a sweater to class without having to swap them out when they change into a sleek dress after hours.
Taschen Fashion Designers A-Z Hardcover Book ($70): For the friend that lives and breathes the latest trends on the runway, a coffee-table book chronicling the century's greatest fashion icons is the perfect source of inspiration. With hundreds of pages of photographs featuring some the most celebrated moments in fashion history, the trendsetter in your life will be eager to read through the entire book.
Forever 21 Velvet Baseball Cap ($7): Even the most style-conscious individuals aren't immune to a bad case of bedhead, but they're definitely the most innovative when it comes to quick solutions. A sleek, velvet baseball cap can make any bad hair day instantly chic while also adding a little texture to any outfit.
Lime Crime Matte Velvetines ($20): A bold matte lip is one of the easiest ways to upgrade your ensemble, and Lime Crime has every shade imaginable. Whether your friend's favorite shade is a classic ruby red,  subtle light pink, or a daring lavender, you'll definitely be able to find a color they love.
What would you send in a care package to your long-distance BFF? Let us know in the comments below!