There's no reason your college apartment or living space shouldn't feel like your home away from home! I know we're running around like crazy and that our schedules are so busy during move in time. Set aside a couple days to get yourself situated and decorated. You will thank yourself when you just want to come home to a cute place.
1—Make use of metallics. Metallics are huge in home décor right now. I choose to bring out gold in my apartment. I love the feminine touch and dimension it gives any décor. The gold accents add a shimmer without being too overbearing. Great ways to include these are through vases or lamps. If you're feeling adventurous, you can even try metallic mixing.
2—Add a pop of color. A pop of color goes a long way, but make sure it still goes with your overall theme. When decorating my apartment I chose to add turquoise to my living room by covering an older chair in a solid turquoise fabric. I also found pillows that matched my bright chair to add to the couch. These items brighten up a room without having to do too much.
3—Florals, florals, florals. A floral arrangement can brighten up any room. Flowers are always in style, and they add a fresh feel to a room. I have an arrangement in the center of my coffee table with pale pink and white flowers. I love that your eye is drawn to the flowers almost instantly. While faux flowers are definitely easier to take care of, never underestimate the power of a fresh bouquet of flowers. Plus, fresh flowers are a great way to treat yourself.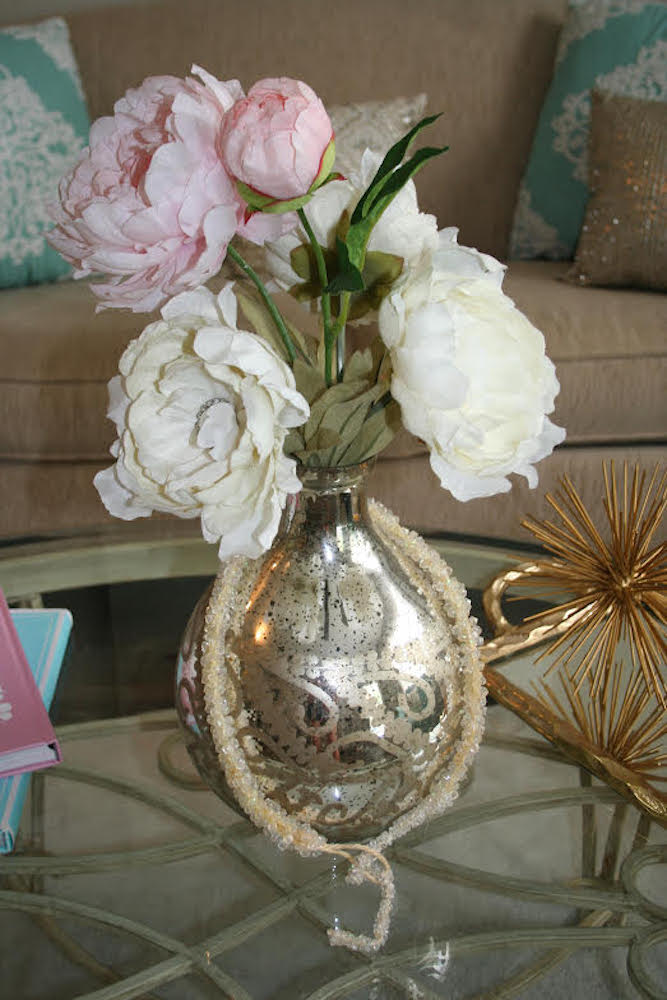 4—Don't forget the small rooms. Typically our college apartments aren't huge, so every bit of space is important. This means that no matter how small a room is, it shouldn't be left behind. I made sure not to ignore my bathroom or laundry room. I stuck with a white theme for my bathroom to maintain a crisp, clean feel. Just because you don't spend much time your laundry room much doesn't mean it should be ignored. I added a fun sign to mine that ties the room together with the rest of the gold in the apartment!
5—Personalization. Nothing will make your college living space feel more like home than personal touches and accessories that mean a lot to you. Picture frames are a great way to keep your friends and family members back home close. They are also great conversation starters when others come over to your place. I also chose to monogram my bath towels. It's a simple addition that adds a personal and classy touch.
In the long run, it will be well worth your time and money to invest in décor that makes you feel comfortable and excited to come home at the end of the day.
How do you make your college apartment feel like home? Let me know on social media and tag @Cfashionista!