As summer break begins, many people will be interning, including myself. It's important to experiment with internships, whether it's to discover what you want to major in or the different paths that you could possibly take within a major. Many may be starting internships for the first time this summer and have no clue what to wear to them; I know I didn't at my first internship! First, ask the person you are in contact with at the company what their dress code is and what people typically wear to work; that way, you can plan your wardrobe around it. Regardless of dress code, below are ten things that I believe are an essential to any intern's wardrobe that can be dressed up or down!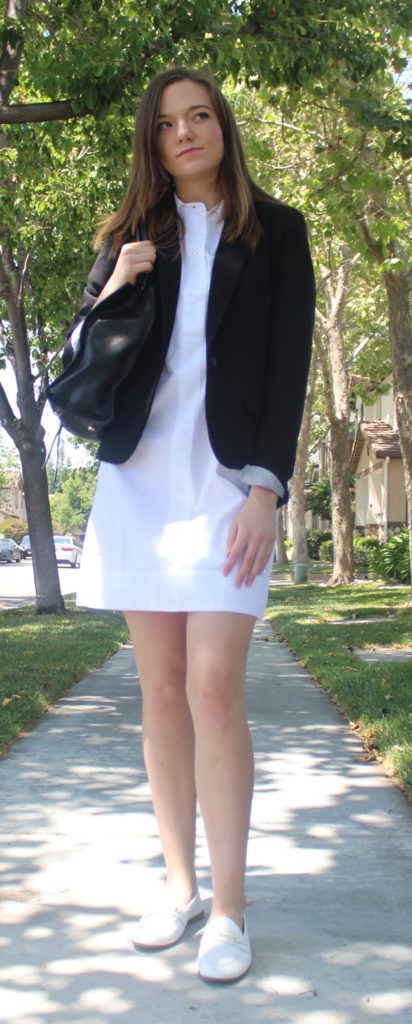 1—Shirt Dress. I love dresses in the summer, especially at work. They are a quick one-piece outfit perfect for busy mornings. I especially love shirt dresses for a more put-together look. Not professional enough for your internship? Just add a blazer.
2—Blazer. A blazer is a major staple in any workplace. Throw it on top of a dress or blouse to look more professional.
3—Large Purse. A large purse is a necessity for work. Ditch the college backpack and go for a stylish tote that will be able to fit your laptop, a planner, a notebook, and more.
4—Pencil Skirt. Skirts are essential, especially in the summer in order to keep cool. You can never go wrong with a pencil skirt; just make sure it's an appropriate length.
5—Simple Necklace. I personally love jewelry because it shows off personality. At work, tone down the jewelry with a simple necklace like this pearl one for a classy, feminine look.
6—Peplum Shirt. A peplum shirt is a great staple that's easily transitional from professional to casual. It's a classy twist on a casual shirt that looks great with both skirts and pants. Again, throw a blazer on top if it's too casual for your workplace.
7—Watch. A watch is an absolute must for style and practicality. You most likely will not be able to use your phone at your internship, so a watch is perfect to keep time to make sure you are on track with your work. I especially like this small watch because it's perfect for everyday use.
8—Dress Pants. Dress pants are staples in any woman's wardrobe. Dress them up for work or dress them down for a more casual but classy vibe. Instead of plain black, try out colored or printed ones, like these green ones.
9. Loafers – Loafers are a great addition to a work wardrobe that many women don't have. They are a more professional alternative to flats that make you look ready for business. I love white ones, especially in the summer.
10. Flats – Flats are another shoe staple; they are easily transitional between work and play. Opt for a more comfortable pair with support if you will be on your feet for most of your internship.
What are you wearing to your internship this summer? Show us on social media. Don't forget to tag @CFashionista!