Let's take a moment to list all the amazing things about fall: back-to-school shopping, cozy seasonal scented candles, and of course, football games. There's nothing that screams fall more than game day on a college campus. As we make our way through the semester, most of us have every home game marked in our calendars. It doesn't matter if you're the world's biggest sports fan or if you have no idea what the difference between a field goal and a touchdown is. There's just something about football season that's so exciting. As we know, with football season comes countless opportunities to rock killer game day looks. And while you can easily pick up a handful of T-shirts for your campus bookstore, sometimes the ole' spirit wear shirt can feel a little overdone. This season, ditch your classic game day attire for a tailgate look that's both fashion-forward and full of school pride. Not sure how? Keep reading for four unexpected outfits you that answer the question of what to wear to a football game.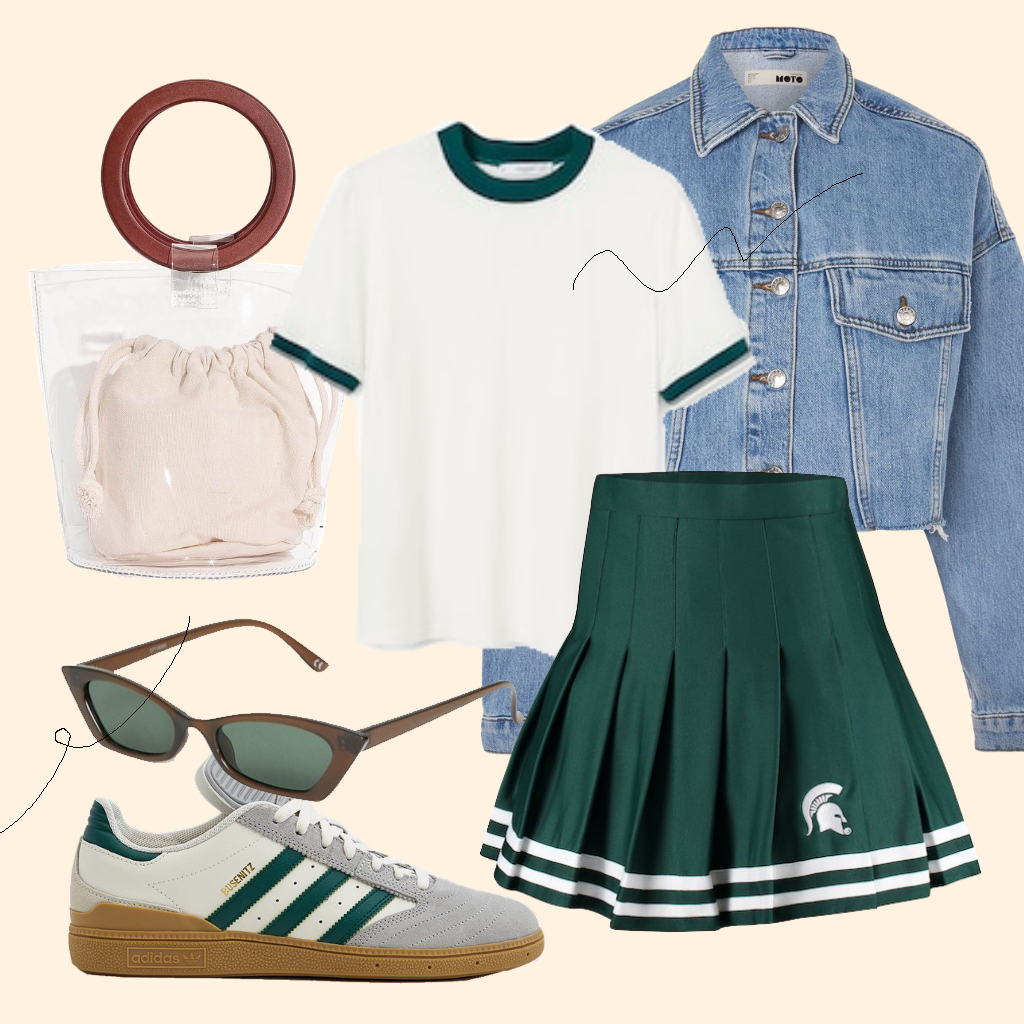 Rock Retro School Spirit Vibes with a Cheerleader Skirt and Color-Coordinated Accessories
Instead of wearing your go-to cropped game day T-shirt, throw it way back for homecoming this year. Pair a retro-inspired cheerleader skirt with a ringer shirt and some vintage kicks in your school's colors. A cropped denim jacket is perfect to layer over top if it's finally starting to feel like fall while a O-ring handled bag and teeny tiny sunglasses nod to some of today's trends.
Get this look: H&M Short Pleated Skirt ($30), Topshop Hacked Off Crop Denim Jacket ($79), Mango Contrast Edge T-Shirt ($20), Adidas Busenitz Sneaker ($80), Pixie Market Ring Handle Clear Vinyl Bag ($59)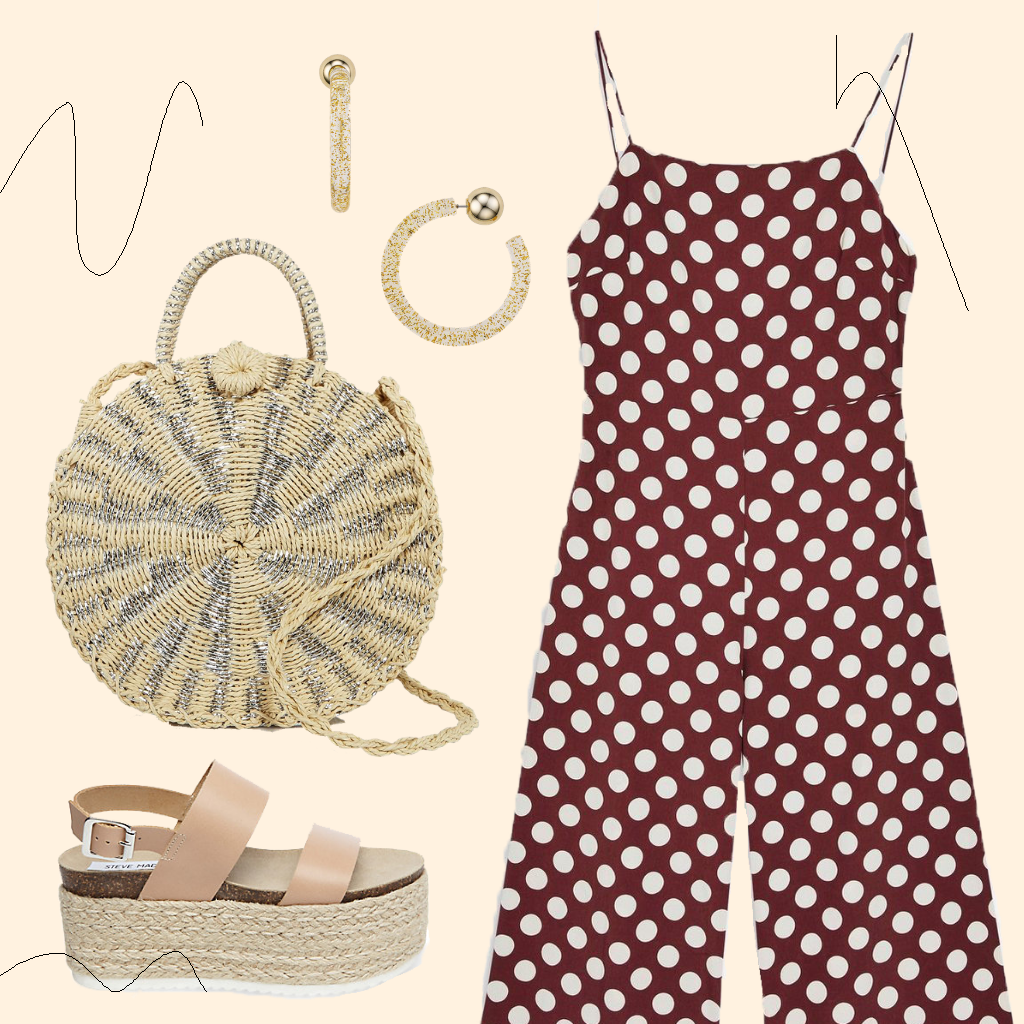 Opt for an On-Trend Printed Jumpsuit If Your Game Day Has a Dress Code
Do people use game days as an occasion to dress up at your school? No worries! Switch it up with a printed jumpsuit. Flatform sandals will keep you comfy while you spend all day on your feet. A straw bag serves as a great place to store those football season passes. Accessorize with acrylic statement earrings, oval sunglasses in a shade that compliments your school colors, and a spirited button and you'll be ready to watch your team snag the W.
Get this look: Nastygal Give It All You Dot Jumpsuit ($12), Remi & Reid Cabanas Straw Circle Crossbody ($44), Aqua Acrylic Hoop Earrings ($10)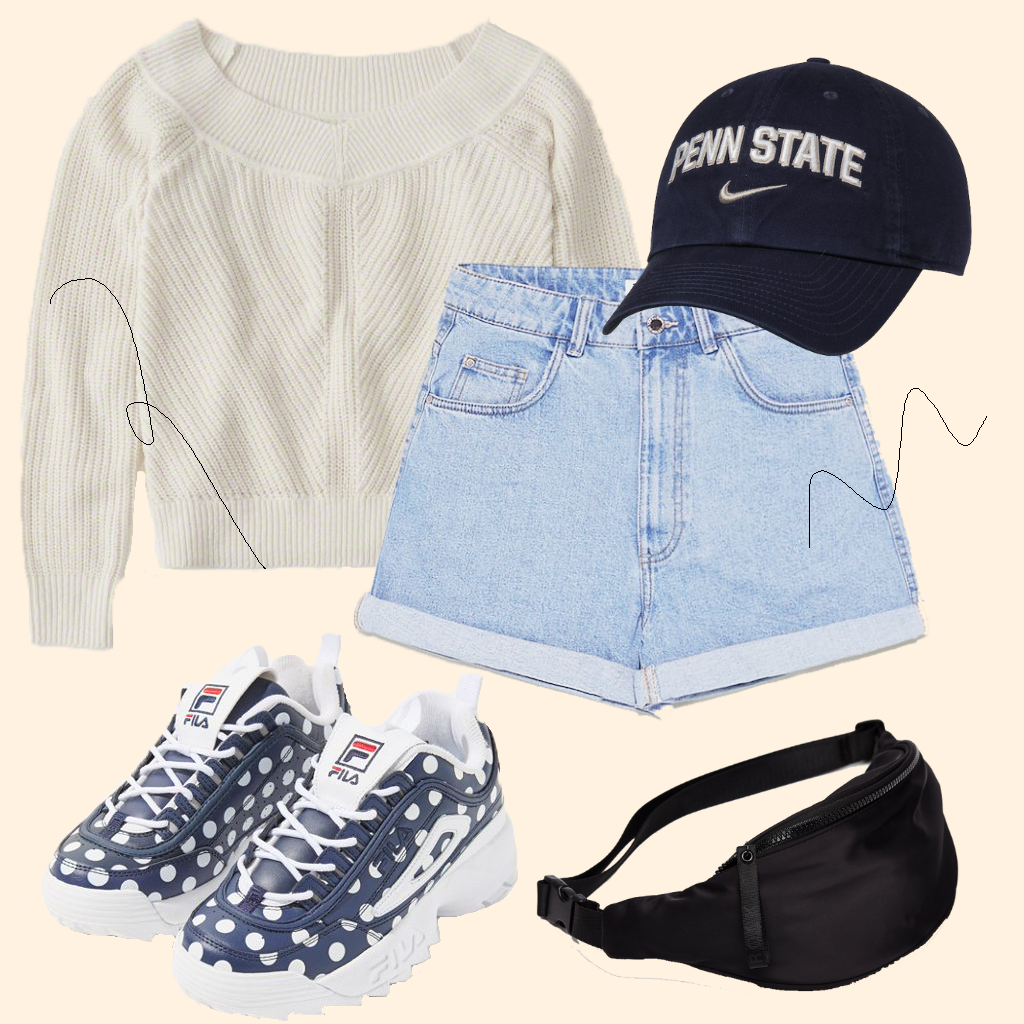 Borrow from Your Dad's Old Tailgating Style with a Baseball Cap and Chunky Sneakers
Let's face it, 2018 has been a year full of dad-inspired pieces. Our clueless-about-fashion fathers have basically become our style icons, so why not channel them on game day. A rugby polo and bermuda shorts give off a laid-back vibe that will make tailgating a breeze. Sling a fanny pack crossbody over your shoulder and tie on your favorite chunky sneakers. (You can't forget the crew socks, of course.) You'll be practically twins with that throwback photo of your dad. Finish it off with a baseball cap. Bonus points if it's the same one your dad got for himself when you decided on your school.
Get this look: Fila + Pierre Cardin UO Exclusive Disruptor 2 Polka Dot Sneaker ($80), Adidas Originals National Sling Bag ($39)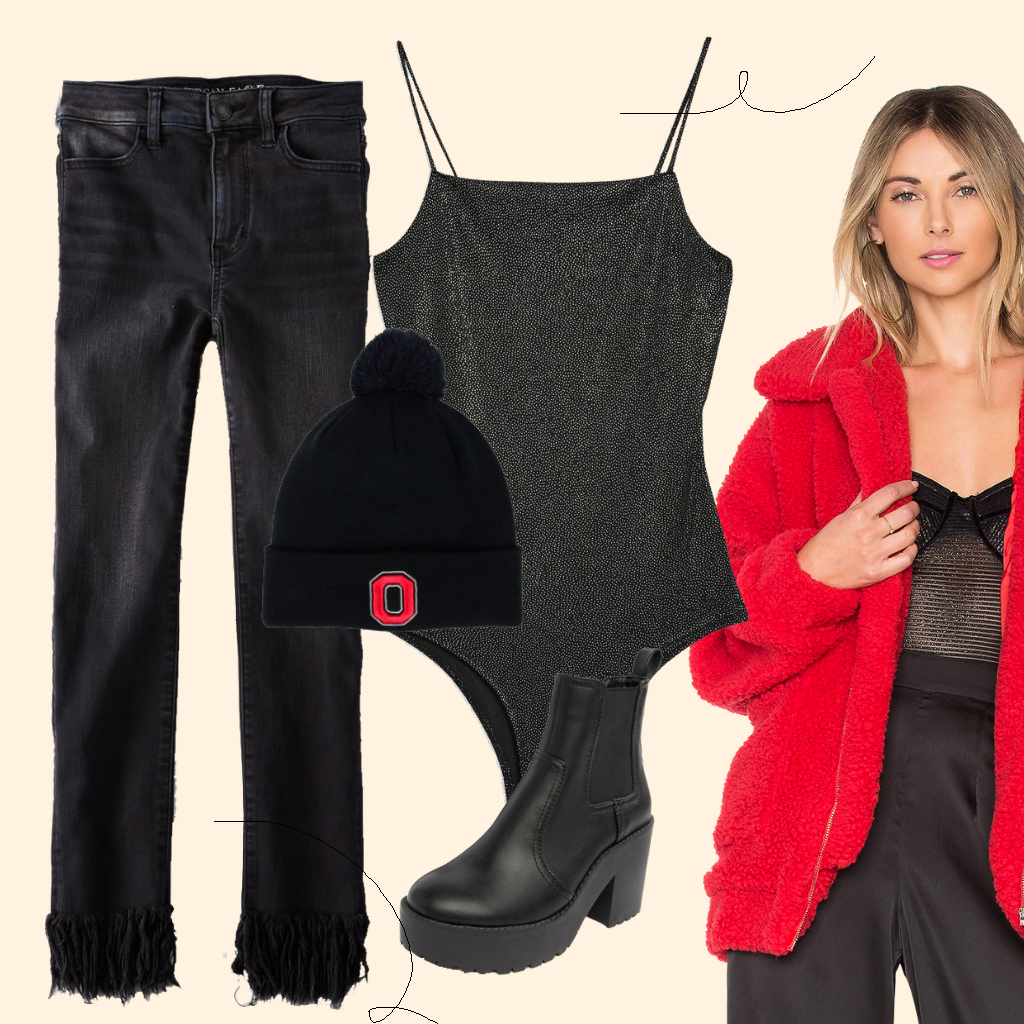 Stay Warm during an End-Of-Season Game with a Sherpa Coat and Beanie
While we may not want to think about winter yet, we all know some of those last few games at the end of the season are cold. Since it's never too early to prepare a stylish outfit here's a fun suggestion for a snowy game. Layer an on-trend sherpa bomber over a shiny bodysuit and frayed black jeans. For some weatherproof accessories, grab some chunky boots and a beanie from your school's spirit shop. You'll be warm all the way through the fourth quarter.
Get this look: Revolve Pixie Pile Fleece Coat ($120), AE Ne(X)t Level High-Waisted Legging Crop ($50)
What's your go-to game day outfit? Show us pics on Instagram @cfashionista!
Opening image by Paulina Hernández