Boots are the hidden hero of every winter story. They save you from the chillest of days but also add an extra dash of style to an outfit. Every year there is a line up of the top most wanted boots filled all over Instagram to Pinterest. This year is all about grunge chic. Bottega Veneta, Gucci, and Prada set the foundation for the major boot trends you are seeing today so I have taken the liberty to investigate what brands us college girls can shop at right now to own those same styles that trickled into these websites. We still have some time before the holidays so if you are a gift hunter you have hit gold today pal. Now let's get started.
1. Chelsea Boots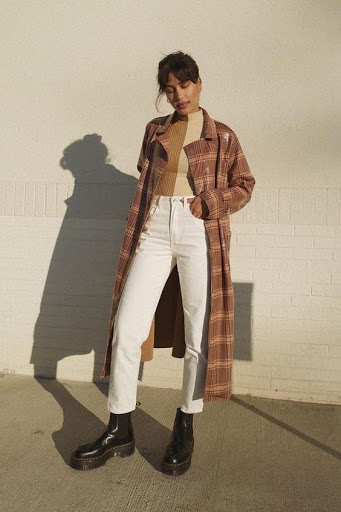 Chelsea Boots are here to stay. They have been an essential boot to almost every winter season since the dawn of time. These are a safe choice for almost all styles and become a staple to your closet almost immediately after being brought home from the store. Instead of the usual thick heel Urban Outfitters have created their own Chelsea Boot by adding a lug sole to attract the mainstream trend. This boots goes to the girl that is practical and wants more timeless pieces in her closet that she knows can pair with any outfit from cozy to dressed up.
Boots, urbanoutfitters.com, $79, Shop now
2. Tall Lug Sole Faux Leather Boots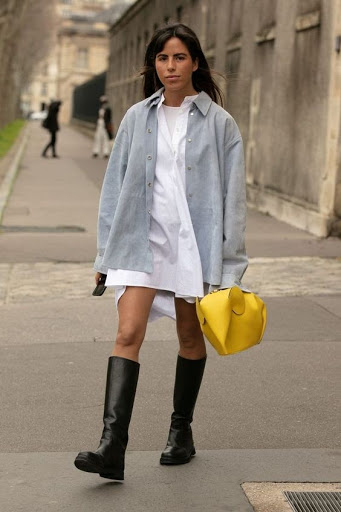 It was major fashion houses, such as Bottega Veneta, that first started to debut the tall rain boot style. They turned from an item I just thought to wear when I was a kid walking in a big rainstorm to a now put together minimalist styled look. The wide boots can easily be paired with a mid thigh sweat short monochromatic look for the grocery runs. To even styled over a denim pant, oversized blazer, and essential button up for a more put together look. Zara recreated the iconic wide legged tall boots for a dupe we can all add to our carts today. These are the perfect marriage between the trendsetting style and add on height we look for in all platform boots. Run, do not walk.
Boots, zara.com, $169, Shop now
3. Chunky Sole Tall Leather Boots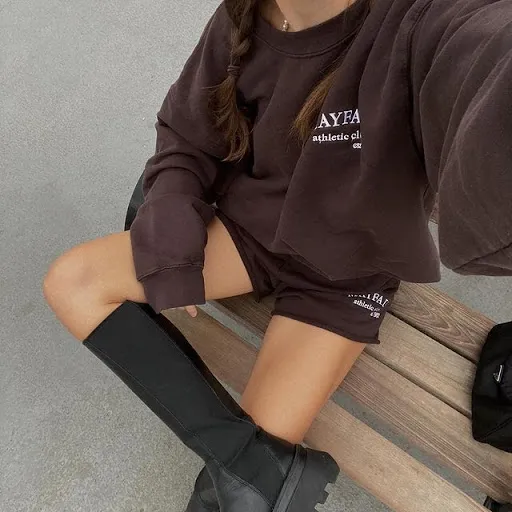 If you are as mesmerized as me at the Prada boots you see all the A-list influencers raving about on social media you tend to feel a bit of FOMO. Have no fear, I have the perfect retail hack that matches with the iconic Prada boots. These tall leather black boots have a different twist than the previous one before because of the eye catching sole. Steve Madden made sure to hit it on the margin for the style all girls are having eye candy for and definitely will be a style to wear past winter but into spring with some femme styled mini dresses.
Boots, stevemadden.com, $189, Shop now
4. Pouch Detail Patent Hiker Boot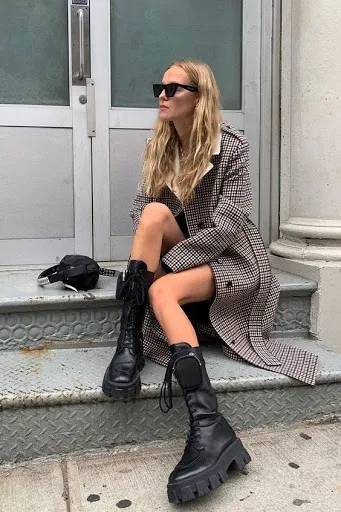 These boots are the perfect mesh in between grunge and tactical style. Not only do they have the iconic lug sole but also have small patent leather pouches on the side. You never know when you may need to stash your lip gloss or car keys in the side of your shoes. Prada has been known for their jaw dropping hiker pouch boots but other retailers such as Boohoo have done a remarkable job of recreating this must have item without the dash of buyers remorse.
Boots, boohoo.com, $40, Shop now
5. Tall Croc Boots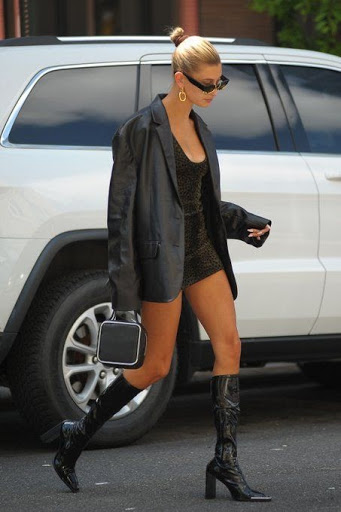 If you just refuse to hop on the grunge, chunky sole fan train this will favor more into your taste. Croc style has been a recurring fandom and is the more neutral of textures and animal prints. Instead of the loud cheetah and zebra prints too many brands make the excruciating mistake of, croc matches with every outfit and is very discrete in their play on shoes but adds a little bit of excitement. Again, these are a pair of boots that can be paired with jeans under or make a statement and put over to really catch some eyes walking down the street. Or for a holiday look that you will be debuting to the living room and back you can pair them with sheer tights and a classic LBD. Especially since this is a black croc style from Princess Polly it is the neutral boots you need to start your core essentials with. They can be worn from winter to summer without much of a second thought.
Boots, princesspolly.com, $115, Shop now
6. Square Toed Boots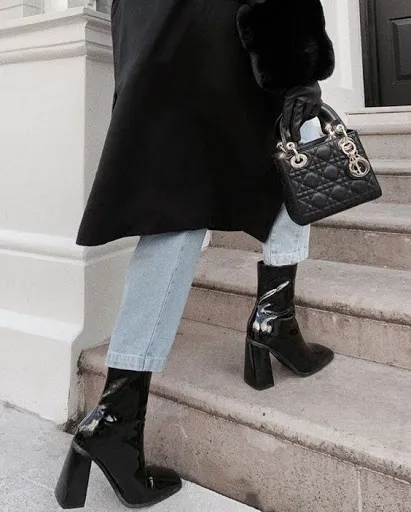 For the pop of color lovers, in case you were exhausted from all the black booties looks I have the perfect pair for you. These white bone booties are a classic that will stand testimony till the dawn of time. It is a very 90's look with the intense square toe and kitten heel but are such a classic add on to every look. This is not just a seasonal trend but one that is timeless since they have hit the streets. If you are looking for an investment shoe that can be worn with high versatility then this is it. You can find these at Nordstrom right now and gift these to yourself because well, you deserve it. For styling I would keep it minimal with a wide leg denim pant, bring out the sweater vest, and top it with a nice trench coat for a "cool girl" feel.
Boots, nordstrom.com, $120, Shop now
7. Smooth Leather Platform Boots
These boots have such a long history behind them because when I became obsessed with them, of course I wore it to my last year's family holiday get together. My aunts were having flashbacks of what they wore back in the 80's. Fashion has a funny way of circling back and just being thrown back into your face at your family gatherings, so remember this 30 years down the line when you see your nieces and nephews doing this to you too. I love these boots because alone to the eye they look like a punk rock staple shoe. But when paired with femme and bright toned pieces it turns from grunge to a more elevated look. For the winter I would pair these with an oversized teddy bear jacket, long plaid scarf, wide legged denim and add a hint of grunge with the jadon platform boots from Doc Martens.
Boots, drmartens.com, $180, Shop now
With every season there are new fandoms for what is trending, but to keep myself up to date but also not in debt it is good to feed into one or two of the boots you have been seeing all over your feed. I am so excited to see more of the CF family debuting these must-have styles in the feed soon and giving those posts all the love they deserve.