Here's to the red, white, blue… and SHOES. As the temperatures get hotter, the patriotism gets higher. Between Memorial Day, Fourth of July, and Labor Day, we celebrate America through the stripes and the stars. Cookouts, fireworks, and flags are representations of American tradition. While these customs have remained the same, patriotic fashions have evolved to keep up with the styles in the United States today.
Stripes are a classic look, which I wore via a trendy dress style. I wore stripes this past Memorial Day as a way of expressing style and showing respect to those who have fought for our freedom. Since blue is a patriotic color, as well as a summer color, I thought it was an exceptional choice. The light hue was also helpful to stay cool by the pool.
Off-the-shoulder tops and dresses are making a statement this summer. This dress incorporated that movement. Let's just say, I was NOT the only one at the party wearing an off the shoulder! Additionally, it is a linen material, which is a light fabric that the Egyptians used to beat the heat.
The sleeves have sailor's knot detail which seals the openness of the sleeves. While the sleeves are fitted at the wrist, the dress itself does not have much shape. A way to solve this would be to pair it with a belt. A white belt would probably work best to match the white stripes. Speaking of white, I also considered styling the dress with white jeans. White jeans are one of my go-to summer wardrobe pieces because they look chic and match with so many garments.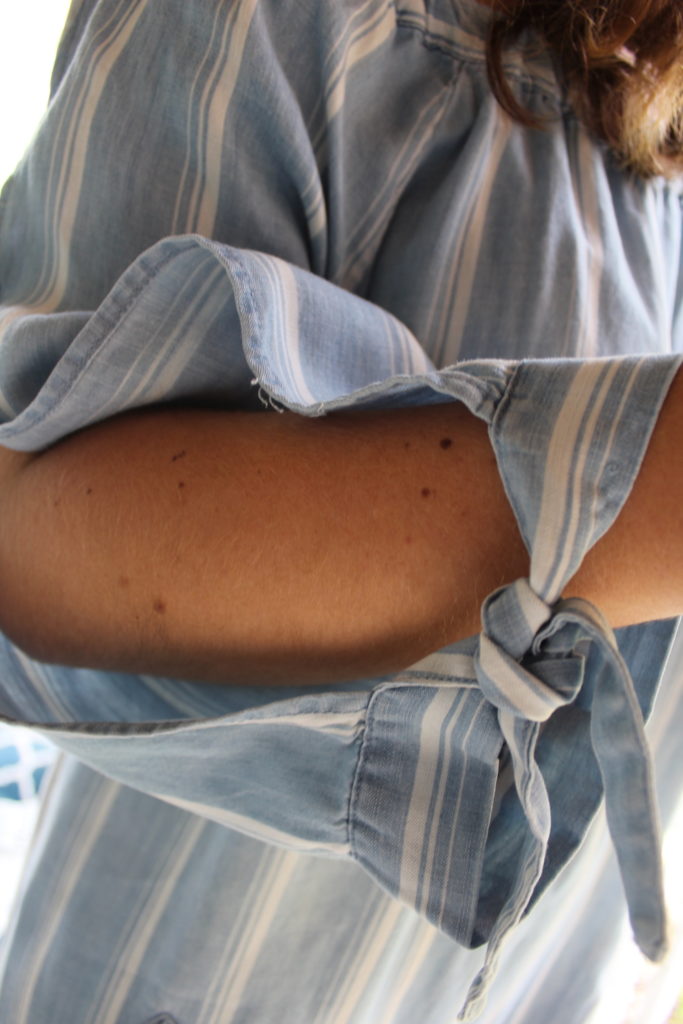 Some ways I made this look my own were by combining it with a few accessories. I chose diamond stud earrings to follow along with the simplicity of the dress itself. Also, I wore a sparkly bracelet that wraps around, which added some glam, but also felt back to the basics. The most notable component would for sure be the sunglasses. They contain a round frame but also have a cat eye appeal. On the other hand, the lenses themselves are reflective. The all blue everything shades are sure to stand out.
Let us know some of your favorite American style looks by commenting below!