As the air gets crisper and the leaves begin to change color, all these signs of fall mean it's officially time to say goodbye to your flip flops and sandals. Let's say hello to something a bit cozier. Although the concept of boots in fall is the equivalent to florals in spring, you have to admit, no perfect autumn outfit is complete without a good pair of boots! From knee-high boots to heeled booties, you can't go wrong with whatever you choose. With so many options to go with, there are endless possibilities when deciding what shoes will be the perfect finishing touch to your outfit. Check out these 15 fall outfits with boots our community members are wearing this autumn/ It will give you just the right amount of inspiration to stand out on campus this upcoming semester.
The Shoe: Classic Doc Martens
Wear with: Neutral Midi Dress
Ever since their breakout in the '90s, Doc Martens have remained a staple in closets everywhere. Since it's such a versatile shoe, you can wear pretty much anything and look instantly cooler. But we have to admit, a neutral midi dress is the way to go to get the most out of these kicks.
Get this look: Dr. Martens Women's 1460 Smooth ($140), Anthropologie Trench Dress ($100)
The Shoe: Suede Over-the-Knee Boots
Wear with: Plaid Mini Dress
Keep your legs warm when the weather gets chilly with suede over-the-knee boots. Pair them with a plaid mini dress for an updated twist on the school girl, preppy look.
Get this look: New Look Over the Knee Block Heel Boot ($72), Forever 21 Glen Plaid Pinafore Dress ($28)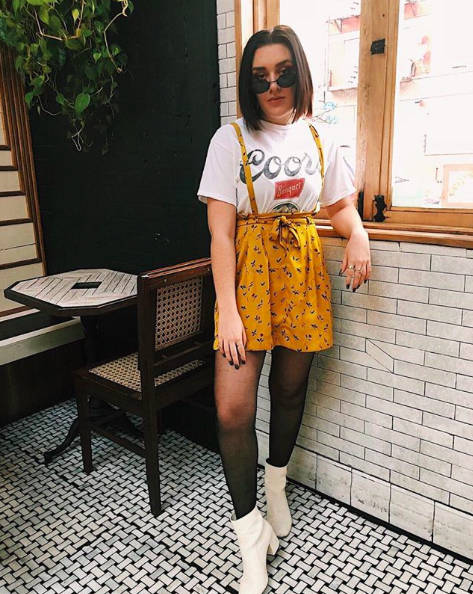 PHOTO: @kallycera
The Shoe: White Leather Boots
Wear with: Patterned Skirt and Tights
Who says you actually have to follow the "no white after Labor Day" rule? Wear these white leather boots with a patterned skirt and tights for a girly and chic outfit that's as comfy as it is stylish.
Get this look: Urban Outfitters Vagabond Olivia Leather Boot ($160), Forever 21 Floral Print Button-Front Skater Skirt ($15)
The Shoe: Burgundy Patent Leather Boots
Wear with: Graphic Tee and Tapered Pants
Exude cool girl vibes with this graphic T-shirt and tapered pant combination. The burgundy patent leather boots add the perfect finishing touch for confidently working your way around campus.
Get this look: Vagabond Shoemakers Olivia Leather Boot ($160), Tilly's Archie Comics Riverdale 1941 White Womens Crop Tee ($20), Asos Design Wide Leg Pants with Pleat Detail ($40)
The Shoe: Navy Blue Velvet Boots
Wear with: Denim on Denim
For those who want to take their fashion game to the next level, this denim on denim look is a surefire way to kick it up a notch. And what better way to complete this outfit than with navy blue velvet boots?
Get this look: Sam Edelman Taye Heeled Ankle Bootie ($72), Madewell Stretch Denim Straight Mini Skirt: Step-Hem Edition ($80), Madewell The Shrunken Stretch Jean Jacket: Eco Edition ($118)
The Shoe: Pink Velvet Boots
Wear with: Pink Longline Coat
Pink velvet boots scream fall and all things girly. Pair them with an equally as pink long coat to finish your Elle Woods-inspired outfit.
Get this Look: Free People Velvet Cecile Bootie ($70), SHEIN Pink Collarless Longline Duster Coat ($10)
The Shoe: Hunter Rain Boots
Wear with: Jewel Tone Rain Jacket
No matter how much we wish it wouldn't, rain will inevitably come during the fall season. Be prepared with these Hunter rain boots and a jewel tone rain jacket to stand out amidst the gloomy weather.
Get this look: Hunter Women's Original Tall Gloss Rain Boots ($165), L.L. Bean Luna Jacket ($119)
The Shoe: Black Patent Leather Boots with Clear Heel
Wear with: Patterned Leggings
Switch things up in a black leather boot with a clear heel. Adding patterned leggings to this outfit give it a unique edge.
Get this look: DSW Liliana Finale-1 Bootie ($35), Asos Tall Skinny Ponte Pinstripe Pants ($25)
The Shoe: Blush Timberlands
Wear with: Fur
When the air gets frigid these blush Timberlands will have your feet nice and warm. Plus, the matching fur jacket will have the rest of your body cozy as well.
Get this look: Timberland 6" Premium Waterproof Boots ($130), H&M Faux Fur Jacket ($99)
The Shoe: Cowgirl Shooties
Wear with: Distressed Jeans
Embrace some Western vibes this fall with these "shooties." Pair them with distressed jeans for a modern twist on the cowgirl look.
Get this look: Frye Billy Shootie ($149), Cotton On High Rise 90s Stretch Jean ($40)
The Shoe: Brown Suede Heeled Boots
Wear with: Animal Print
Animal print has always been a fall staple (even cavewomen wore it). Bring it to the 21st century by pairing an animal print jacket with some brown suede, heeled boots.
Get this look: River Island Brown Block Heel Suede Boots ($110), Asos Design Leopard Coat ($119)
The Shoe: Speckled Booties
Wear with: Shift Dress
Boots don't have to be strictly casual. These speckled gray booties paired with a shift dress are the perfect combination for a girl's night out with your closest friends.
Get this look: Sam Edelman Calexa Booties ($61), Boohoo Colour Block Shift Dress ($10)
The Shoe: Black Leather Platform Boots
Wear with: Patterned Mini Dress
Not only are platform boots ridiculously comfortable, but when paired with a patterned mini dress you won't be able to help yourself from having an extra pep in your step. Adding a long sleeve shirt underneath the dress will guarantee you are warm for fall.
Get this look: Urban Outfitters Vagabond Grace Platform Leather Ankle Boot ($130), Forever 21 Ditsy Floral Print Fit & Flare Dress ($16)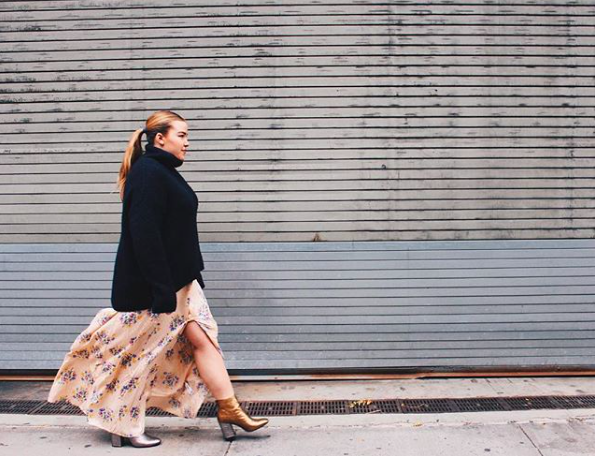 PHOTO: @emmyzobitz
The Shoe: Metallic Booties
Wear with: Flowy Skirt and Turtleneck
Metallics aren't just for ringing in the new year. Pair these shimmery booties with a turtleneck and flowy skirt for a chic, yet comfy outfit all season long.
Get this look: Silver Faux Leather Ankle Boots ($33), ASOS Glamorous Maxi Skirt With Ruffle Tiers in Floral ($72), H&M Wool-blend Turtleneck Sweater ($149)
The Shoe: Black Suede Heeled Booties
Wear with: Plaid Pants
Plaid and black booties are the culmination of fall. But, with these simple plaid pants and suede heeled booties, you will be taking a classic combo to the next level.
Get this look: UO Margot Suede Boot ($59), Forever 21 Tartan Plaid Flare Ankle Pants ($16)

What are your favorite boots to wear during the fall season? Let us know in the comments below!
Opening image by Emily