I've always believed in being both sustainable and chic. There's nothing better than extending the lifespan of a piece of clothing, keeping fabric out of the trash, and looking absolutely adorable while doing it. Vintage and thrift shopping provides the unique opportunity to give your wardrobe a fresh twist with some inspiration from yesteryear. Whether you're brand new to the vintage shopping game or a seasoned pro, I've got the inside scoop on the best vintage shops around the country (both in-store and online), tips and tricks for finding the treasure from the trash, what to watch out for, and much, much more!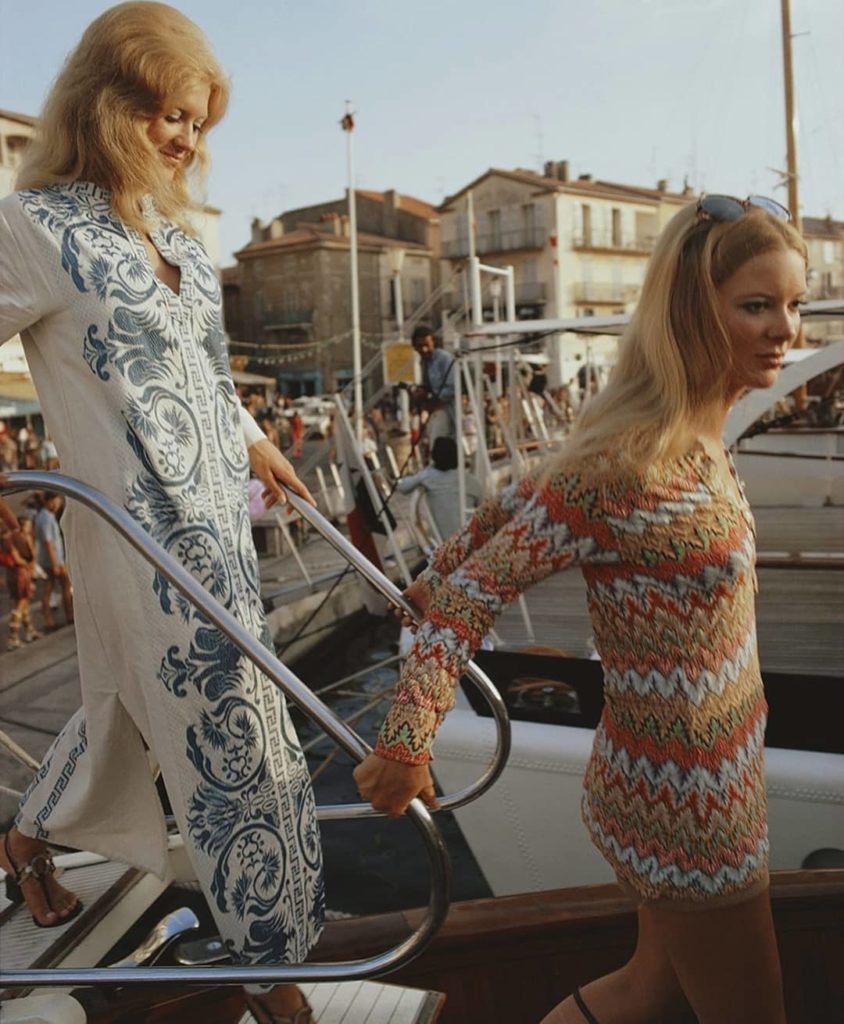 1. Know Your Shops
The demand for vintage and secondhand clothing has increased tenfold in the past few years. What was once the passion of few is now that of many. However, many of those new to the secondhand shopping game might find themselves a little confused on the difference between vintage, thrift and specialty. Fret not, dear reader, for here's the breakdown: Thrift shops typically fall in the lower price range and are composed of more contemporary items. Many people donate their old and unwanted clothes to thrift stores where employees sort the usable items and place them for sale. Some stores may have a few vintage items tossed in the racks or if you're lucky, a whole section devoted to vintage. Despite this, most thrift stores (Goodwill being the premier example) don't focus on separating the extraordinary from the mundane. If you're looking for cute yet contemporary clothing items at a great price, thrift stores are the place to go.
Vintage stores — as evident in the name — focus on selling vintage clothing which by definition is any piece of clothing, accessory or homeware 25 years or older. Most vintage stores get products through a combination of donations and scouting stores and estate sales themselves. Items are carefully selected to ensure true vintage status and wearability. Typical vintage stores sell items from a wide array of decades, a vast number of brands and types of items. Prices can range from low to very high with sellers catching on to the increased demand for vintage and raising prices accordingly.
Specialty stores are vintage stores that focus on a specialty within the vintage market. This can mean anything from exclusively rare and high-end pieces (think Halston, Christian Dior, Lili Ann) or a specific trend like the mid to late 1960's "mod" look. These stores are very, very expensive since the items they sell are such high quality and often rare.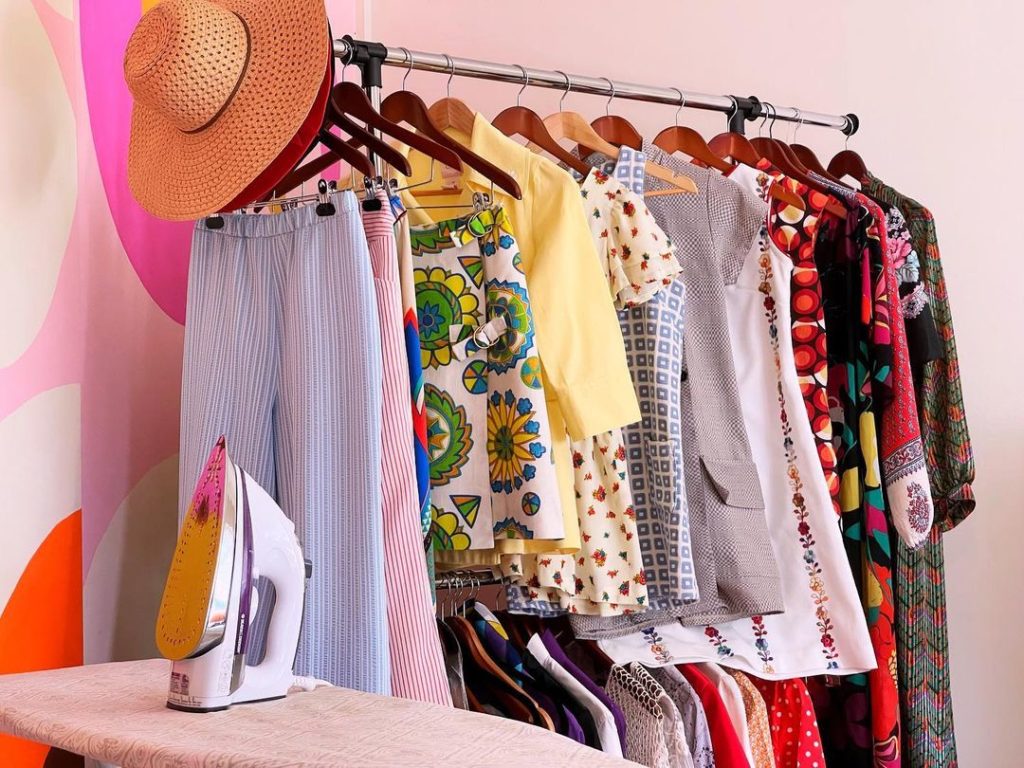 2. Quality is Key
The trouble with shopping for previously owned clothing — vintage or otherwise — is that sometimes it's very apparent that a particular garment has been previously owned. While most stores will try to ensure that all items put on the sales floor are in good condition, occasionally a few not-so-mint-condition items slip through the cracks. It's always good to inspect an item of clothing for stains, missing buttons, tears, broken zippers, and any other imperfections before you decide to make a purchase. Sometimes, you might see a great piece with a few imperfections tagged with an "as/is" sticker. "As/is" stands for "sold as it is" and is often used by secondhand clothing stores to indicate an item that is a bit of a fixer upper and may need a bit of TLC. As an aspiring seamstress, I will occasionally buy "as/is" items that have missing buttons, tears, or loose hems as I can easily make the repair. These items are also priced much cheaper than other clothing in the store so if you feel you have the time and/or energy to make necessary repairs, "as/is" clothing might be a great way for you to get some unique items at a fraction of the regular cost!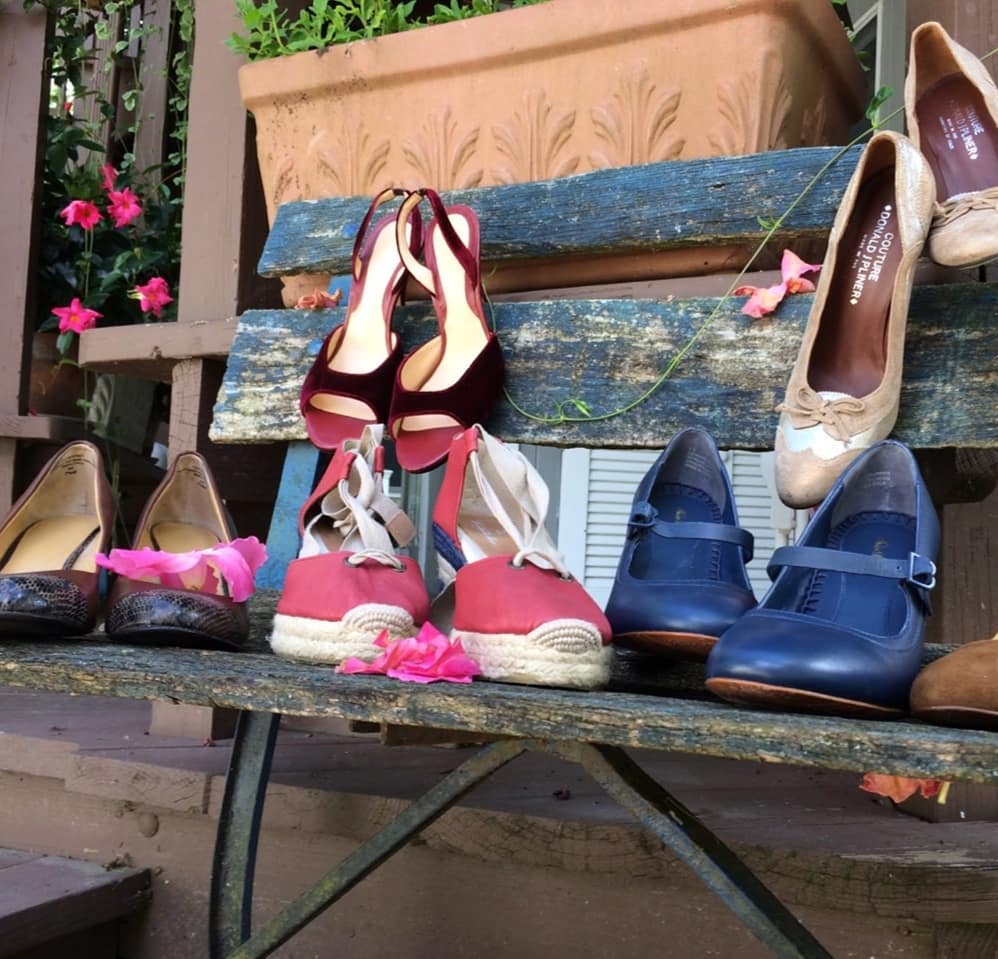 3. Keep Your Heels on Point
Vintage and consignment shopping can be a fantastic way to get adorable pairs of shoes for a good price or incredibly rare pairs for the avid collector. They can be more comfortable than a brand-new pair, as someone has already done the work of breaking in the shoe for you. However, always make sure you check the sole and heel of the shoe. You never want to waste money on a pair of shoes with detaching soles, dirt-(and who knows what else)-caked treads, and grass-stained or broken heels. While the shoe itself might be rare or a wonderful price, the risk typically outweighs the reward as it can be quite expensive to repair a shoe or two, especially the older the shoe is. There's no use in spending money on something that will cost even more to fix.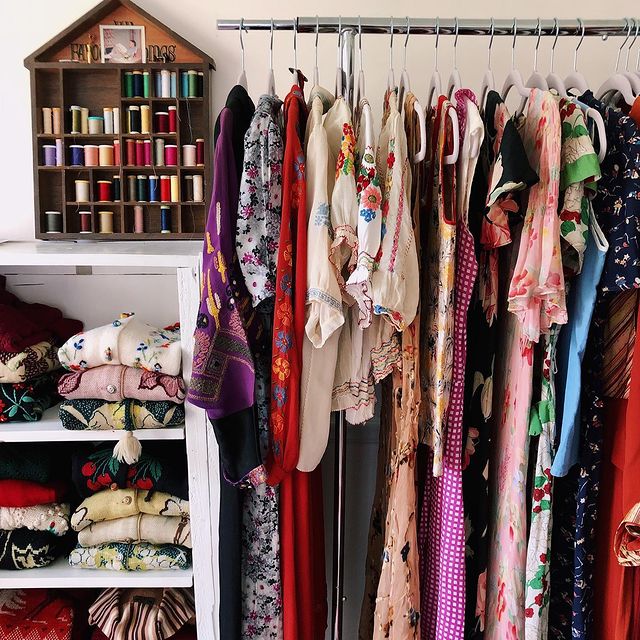 4. Size (Doesn't) Always Matter
When looking at vintage clothing on a rack grouped by size, you might be surprised to see size 10 mixed in with the mediums or a size 4 in the extra extra smalls. Don't worry, this isn't a case of clothes being put back wrong! Women's sizes today are not all equivalent to sizes of clothing manufactured before 1986. What was considered a size 16 in the 1950s is a lot closer to a size 8 today. My strategy when shopping for vintage both in a brick-and-mortar and when shopping online is to check the physical measurements of the clothing. Online shops typically list the measurements of the clothing lying flat across the bust, waist, and hips which you should then double to get the correct data. When shopping in store, ask an employee for a tape measure (or bring one in your purse — I have a mini one in an adorable case I carry around with me) and measure the item. It also helps to have a general idea of what your own sizing is, so you don't have to spend extra time measuring your own bust, hips, and waist.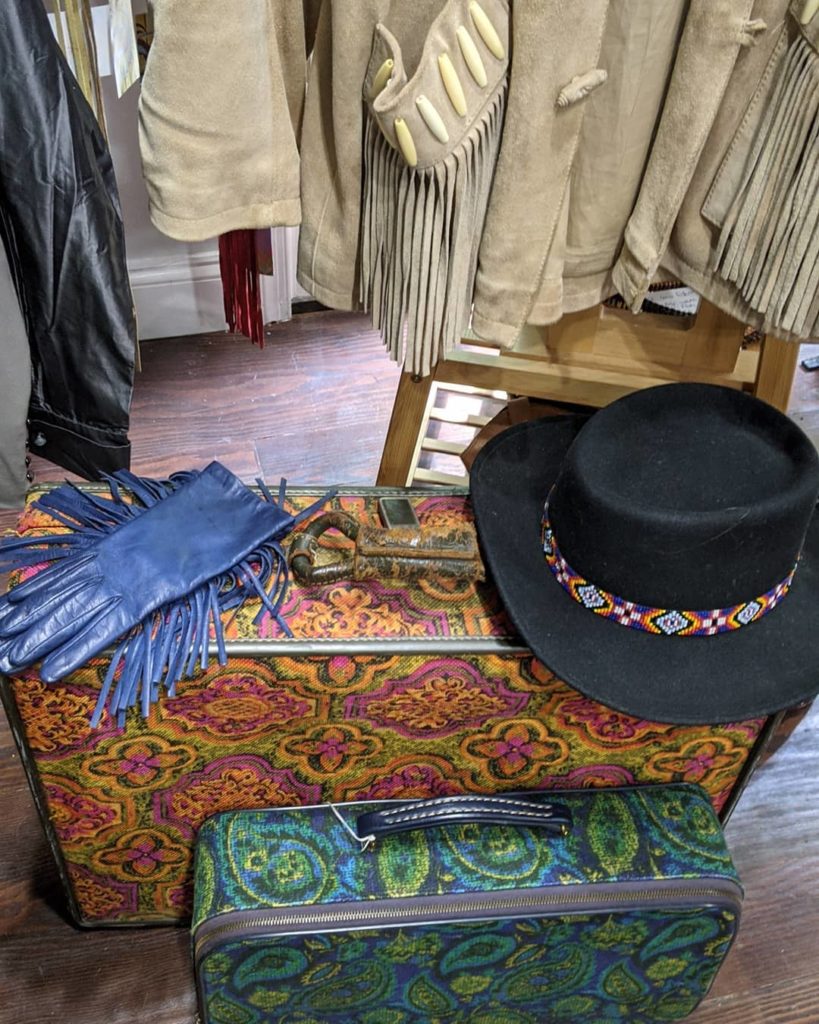 5. Try It On!
No matter what type of clothing you're buying, it's always good to try it on and make sure it fits. When buying vintage, it's definitely even more important. Certain articles of clothing from particular eras were manufactured in a time before stretchier fabrics were invented. If an item of clothing is slightly too small, it might be a lot more difficult to put on as cotton, silk, and velvet often have little to no stretch and can tear and rip when pulled on too hard. Clothing can also look absolutely wonderful on the hanger and fall in all the wrong places when you actually put it on. Most vintage stores do not take refunds so it's always best to make sure you try everything on when given the opportunity. No one wants to spend money on something it turns out they can't even wear!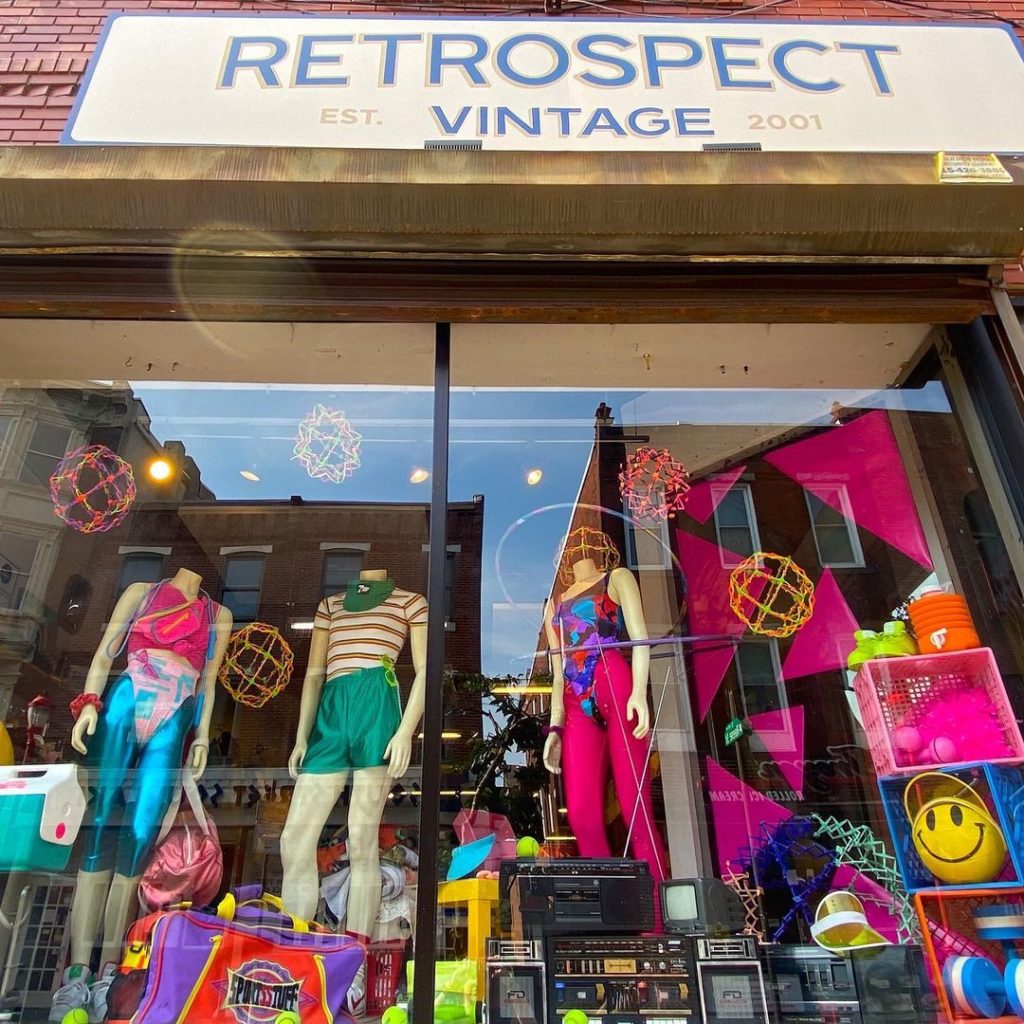 6. Don't Be Afraid to Accessorize
Vintage jewelry is the perfect way to make what seems like an ordinary outfit extraordinary! If you're not exactly sure if vintage clothing shopping is for you, buying vintage jewelry can be a great way to dip a metaphorical toe into the swimming pool of the vintage world. Most vintage jewelry is one-of-a-kind and gives you that sort of exclusivity boost we all crave from time to time. Depending on the particular type of jewelry and the era it hails from, prices can vary wildly. Plastic, wood, fabric, and typical metal jewelry isn't usually expensive unless it's very old or a specific designer. Gold, silver, platinum and precious gems tend to cost a pretty penny, especially for the coveted "art-deco" style of the 1920's, the Edwardian floral motifs of the 1900's-1910's and the macabre majesty of the Victorian era. It's always good to make sure the jewelry is in wearable condition before you head to the checkout queue. Jewelry is often less likely to be inspected for condition than clothing. So, avoid rusting, cloudy gems, missing prongs, and severe scratches. Good news though — tarnished metal can oftentimes be cleaned with specific chemicals (just make sure to double check what product you're using).
7. Bonus: Great Places to Get Unique Vintage
Philly AIDS Thrift is a fantastical journey down the rabbit hole of all things eccentric and magnificent! From second-hand clothing to housewares, electronics, and vintage comic books they have it all! Not only is the store an awesome way to spend your day, it's also a true force of good in the community. At the time of this article's publishing, Philly AIDS Thrift had donated over $676,000.00 to Philly area AIDS service providers. In addition to cash contributions, store management partners with these same agencies to provide free store vouchers to clients in need of clothing and household necessities. Free HIV tests are also available by appointment in the upstairs clinic for those without health insurance.
Retrospect Vintage provides all the adorable charm and shopping experience of a typical boutique vintage store, but with a twist! Retrospect is both owned and operated by Goodwill Industries of Southern New Jersey and Philadelphia. Their buyers locate and handpick the best and most unique product finds from area donations for a curated shopping experience. One final added benefit is that profits from every purchase go towards the Goodwill mission of providing job training and career services that help residents with disabilities and disadvantages get to work.
Based in Kodiak, Alaska, Groovy Tales Vintage is owned and operated by Katherine Estefania. The shop has a wide array of clothing from many different decades but specializes in "groovy 1960's and 1970's sunglasses and psychedelic shoes" For those looking for the perfect oversized, orange tinted shades or cherry red, heeled Go-Go boots, look no further than this delightful and affordably priced vintage shop!
An Instagram-exclusive boutique, Boswell Vintage prides themselves on offering adorable and unique clothing for the vintage girl in a modern world. The store specializes in fantastic condition pieces from the 1920's through the 1950's although there is occasionally an item or two dating from the turn of the century or closer to the modern day. Clothing is well photographed, and measurements are provided to offer the buyer the perfect idea of what the clothing looks like and how it will fit. To make a purchase, simply check out #boswellavail and DM to claim your item! These clothes go quick so make sure you're always keeping an eye out for the next vintage drop!
What are you favorite tips when shopping for vintage? Feel free to share them below!
Feature photo via @floatingmeatballs