It's no easy task planning travel outfits, especially when snow is in the forecast. Weather adds an extra element to putting together outfits and can make it trickier when you're preparing a handful of looks for a trip. It's important to choose pieces that can serve multiple functions when traveling so that you can keep your suitcase light and your commute enjoyable. Here are some style tips for traveling in a fashionable and functional way during the holiday season.
Keep Warm with a Beanie
It can pretty hard trying to decide on a hairstyle that will be both cute and comfortable for sleeping or relaxing on long flights. Beanies are super easy to throw on, masking any bad hair day, and keep your head snug and warm.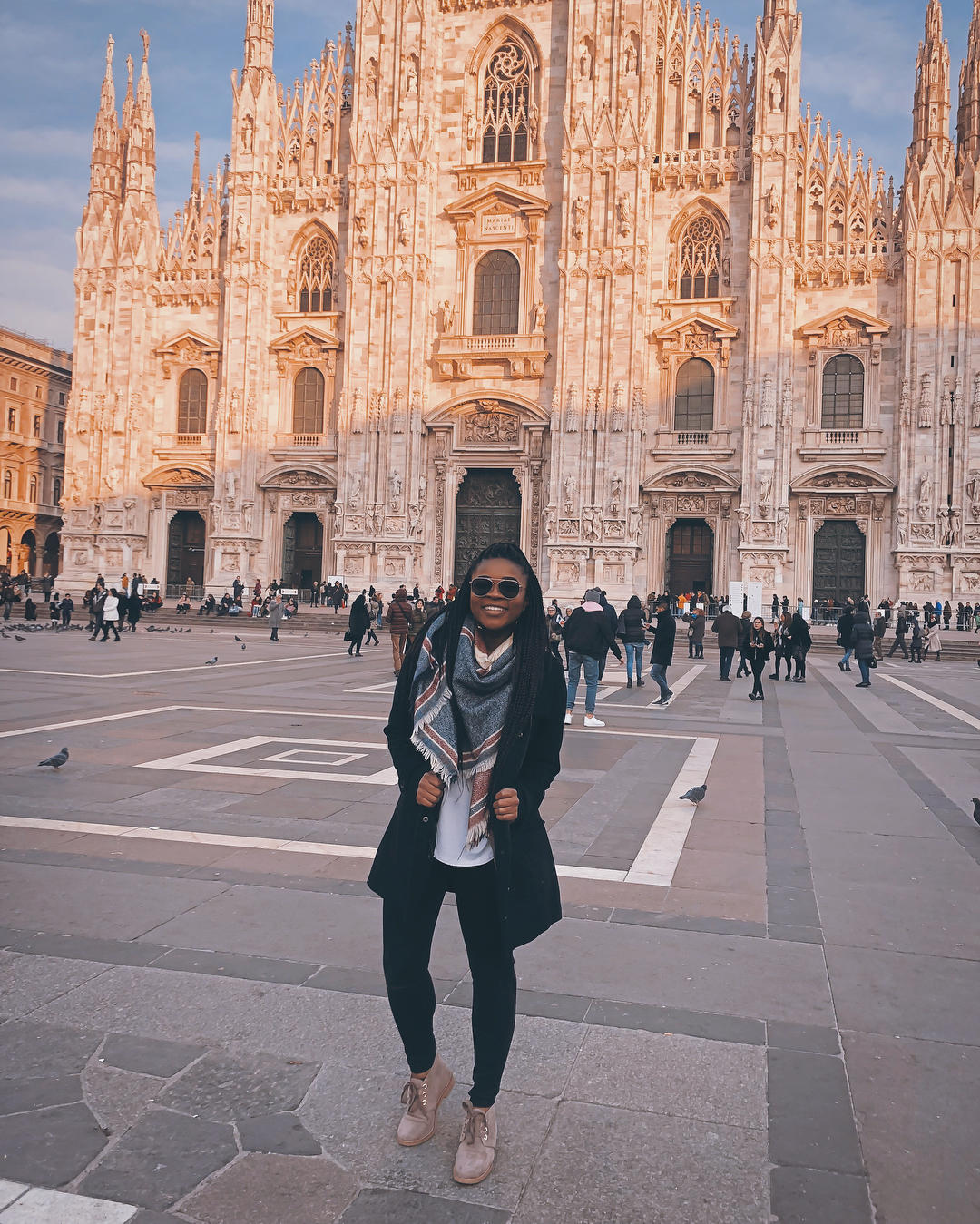 PHOTO: @nikkipaige1396
Use Your Scarf as a Blanket
Not only are blanket scarves a great statement piece to any simple cold weather outfit, they can also be very functional when flying. Gently wrap your scarf over your face for a quick shut eye and to calm any worries of making funny sleeping faces.
Throw on an Oversized Jacket
When it comes to layers for traveling, you really can't go wrong with an oversized jacket. When it gets extra cold, use it as a blanket or keep it on as you hurry between terminals, embracing the oversized trend.
Opt for Slip-On Shoes
Airport security is already a lengthy process, so why not make it easier on yourself? Slip-ons will guarantee a smooth security process. Just make sure to pull on a pair of comfy socks to keep your feet warm on the flight.
Convert Sweatpants into Street Wear
Comfortable sweatpants can instantly convert into a chic outfit with the right top and jacket. Throw on a leather jacket for an instant cool-girl vibe, turning the sweatpants into a trendy, intentional fashion choice.
Mix Fabrics
Layers are great for staying comfortable in fluctuating temperatures. Instead of layering on a bunch of sweaters, try a puffer jacket and a sweatshirt for more interest and different fabrics.
Pair Denim on Denim
If you're a denim kind of person, embrace it. The denim on denim look is chic and simple for an early flight leading to a full day of adventures.
Pick out an Athleisure Look
The athleisure trend has made it so much easier to wear your comfy workout clothes wherever you go. Pull on some leggings and a cute sweatshirt or athletic jacket for a comfy street style vibe.
Lessen Your Stress with a Dress
Dresses can be great options when you can't decide what to pick. Pair a sweater dress with some tights for a look that will keep you feeling cozy throughout the entirety of your flight.
Top It off with a Statement Jacket
No matter what airport look you go for, you can't go wrong with a statement jacket. It quickly elevates whatever casual outfit you ended up in and will keep you warm on the flight too.
Pick a Matching Set
Matching sets are the greatest trend for easy, put together looks. Go for a comfy, matching set like this one and just swap out the heels for some sneakers or comfortable flats.
Trade Skinnies for Loose Pants
Take full advantage of the loose trouser trend seen in almost every store these days. The sophisticated looking pant can make for a fashionable swap in any outfit.
Keep It Casual with Sneakers
Sneakers can be your best friend when getting a lot of steps on your travel day. A chic pair can be worked into any look you have in mind.
What pieces do you love to travel in? Share it on social media and make sure to tag @cfashionista.
Opening image by Jeanette.