Accessories, they make or break every outfit. They take your outfit from drab to fab and if done just right, will add the perfect touch of character to your styling. Adding in accessories are like key ingredients when baking. Without them, you cannot finish that DIY banana bread and we all know the chocolate chips are really what makes the bread. When you are just sporting your basic go-to outfit next time, think about this list because it shines a new light on your classic get up. So take it from one fashionista to another, you need these core 7 pieces to every outfit. Otherwise the outfit you stayed up late last night making, is just not worth it.
1. Huggie Earrings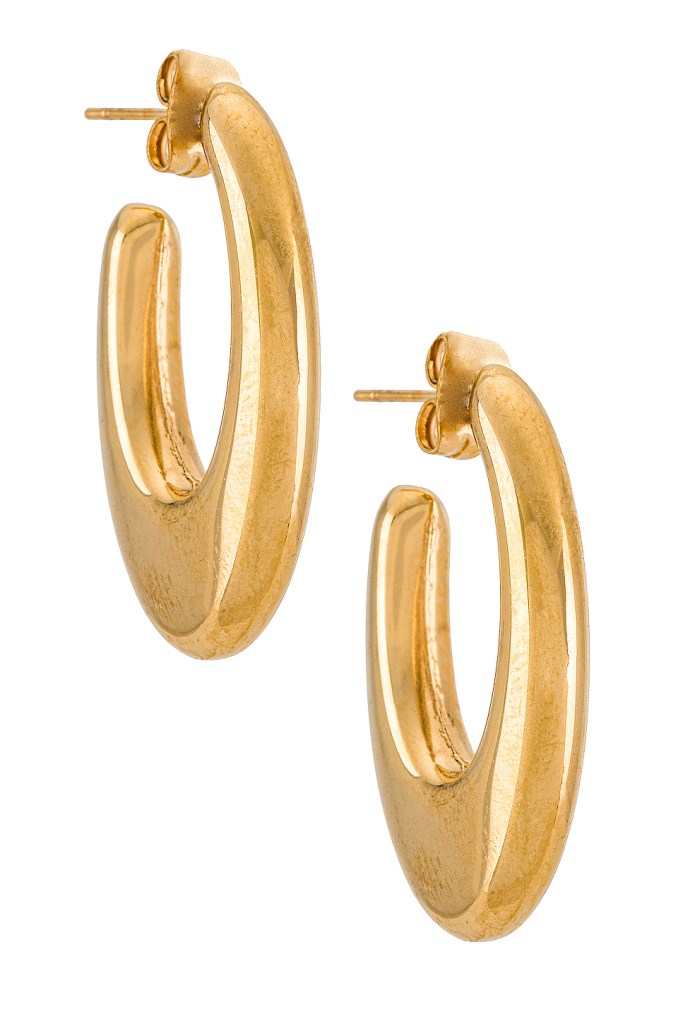 My mother always told me growing up that if you do not put your earrings on before you walk out the door, it is like walking out naked. Do not let this happen to you next time you are getting dressed for your next styling IG shoot. This first core item is in ode to my mother that gave me all my fundamental fashion tips. This year has taken us to a more minimalistic realm and brought us back to all fashion roots. Obviously, that also means going back to the OG earrings your mom and grandmother had in their jewelry dish..thick gold hoops. No matter what season you are in, you need a quality pair of gold hoops that sit just below the ear lobe for all styling. There is quite literally no bounds as to when and where to wear these hoops, so your hardest task is finding just the right pair. These oval hoop earrings are from Revolve and allows for quality and not a breaking of the bank.
Hoops, Revolve.com, $42, shop now
2. Chunky Stackable Rings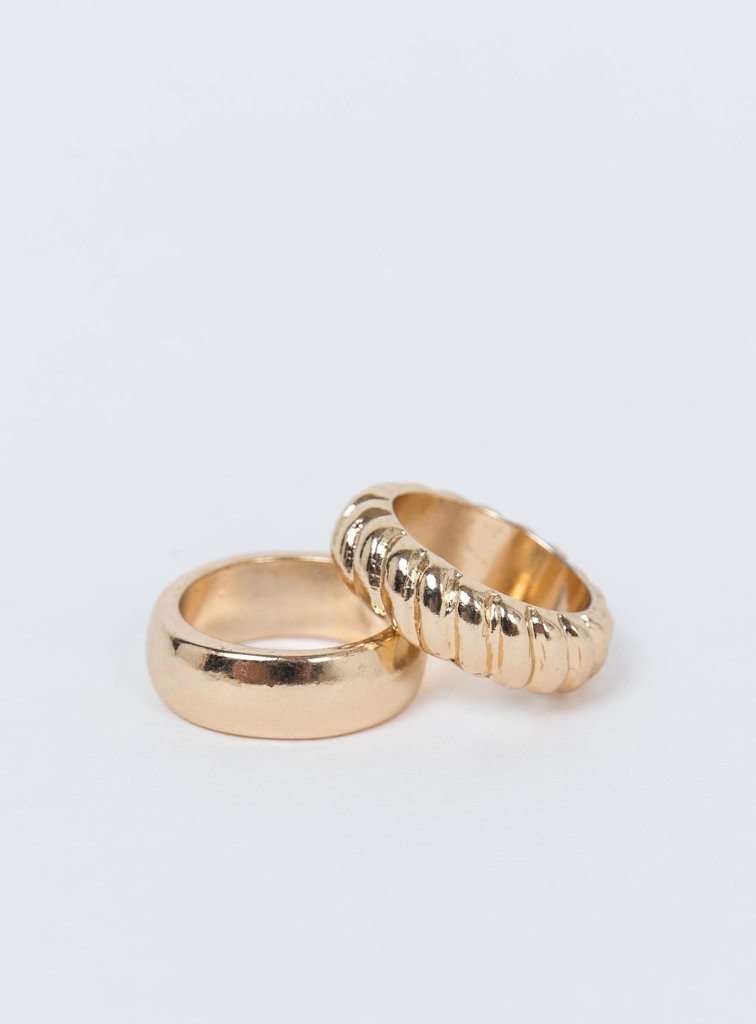 Next up, rings. Just as earrings have steered towards a thick hoop, thick rings are trending. The simplicity that it adds to your hand gives such an elegant look. What's captivating about these rings is that it is just another outlet to showcase your personality in your styling. The same way you can tell a lot about a person by what you see on their Instagram you can tell by their hands. So make sure there is a story to it, play with textures, stacking, or even put on every finger. Rings are not just for a boho look but for every look, even streetwear. I love this ring collection from Princess Polly because they literally take the stress out of finding what rings will best pair together. Come Monday, throw them on when you're wearing your cozy sweatsuit set to add that extra flare we all need.
Gold Rings, Princesspolly.com, $23, shop now
3. Small Purse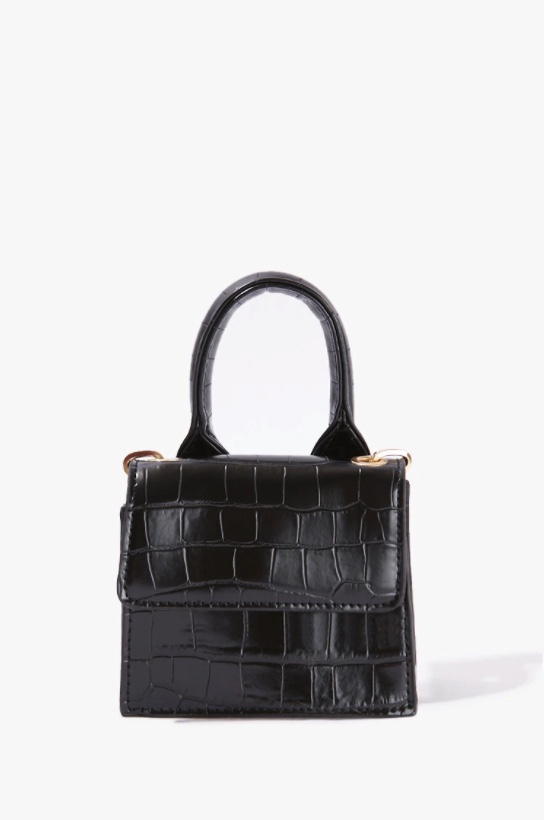 What is a woman without her trusty sidekick, The Purse? If there is one thing that has never gone out of style is a woman's handbag. Throughout the years the size or style of purses have been changed and reworked but now we are taking it back to the iconic 90's/early 2000's where women loved the small hand purse. Fashion essentially discontinued the big, busty bag look and now has resurrected the mini bag for all to wear. It is almost like a sport for fashion lovers to see how many essential things can fit into your baby purse till it just won't close. The first time I really noticed the trend was back in early 2019 (prehistoric times) when Jacquemus debuted the mini "Chiquito" bag. This purse took Twitter memes by storm and then somehow along the way we saw Lizzo rocking it on the red carpet and nothing was the same *no Drake pun intended*. Forever 21 has me obsessed with this faux croc leather mini bag that comes in two colors, that it is too hard to just go with one. Sidenote: if you want to take it a step further, make a monochromatic look to match your purse.
Mini Purse, Forever21.com, $12, shop now
4. Two Style Necklace
When I saw some of my favorite influencers sporting these choker length necklaces in their most recent posts, I knew I had to get my hands on it. The two style necklace is perfect when you can't decide between gold or silver and who's to say now we cannot do both without breaking fashion law. This chain necklace from Topshop is such a good staple to your streetwear outfit and makes it just a dash more trendy. I would wear this with a baggy flannel, straight mom jeans, and your favorite chunky sneaker for the perfect everyday outfit.
Two style necklace, topshop.com, $22, shop now
5. Neutral Toned Headscarf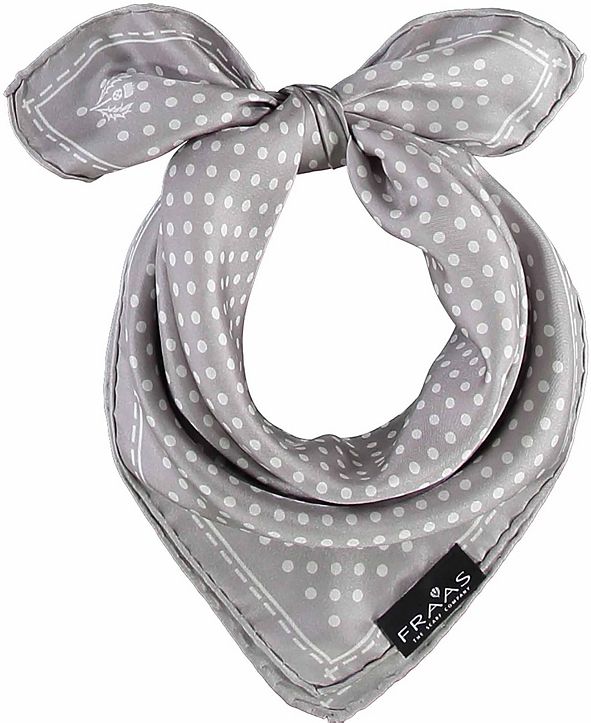 If you spent your summer on TikTok, then you probably saw all the fashion hacks for the different ways to wear a bandana neck scarf. The secret is out, there is more to a neck scarf than just a preppy ascot look. I love this style because it looks amazing on short hair and long. Depending on your style, you can keep it a minimal detailing or find a creative design to make your outfit pop. I am a sucker for a minimal look, so I found the perfect silk scarf at Macy's that has detailing that will match any clothing you pair it to. This head scarf looks amazing with a denim jacket or sweater vest. So next time you are out going to your local farmers market, give this look a try and see how simple and chic it brings your errands look to life.
Neck scarf, mays.com, $42, shop now
6. Black Sunglasses
When fighting those harsh rays or just trying to hide the long night you had, every girl needs their go-to pair of sunglasses. The classic, small black look has been every girl's glassware that elevates your look from 0-100 real quick. It is such a chic, model look that IRL ladies need. I love pairing them with a comfy set and throwing a denim jacket over my sweatshirt for a more put together look, that really was just me throwing myself out of bed. Just because it is fall does not mean we cannot have a sunglass moment and is still an easy put-on for all your outfits. These oval cateye sunglasses from Missguided added that extraness look and a must-have in your car next time you walk out the door.
Black sunglasses, missguided.com, $7, shop now
7. Hair Claw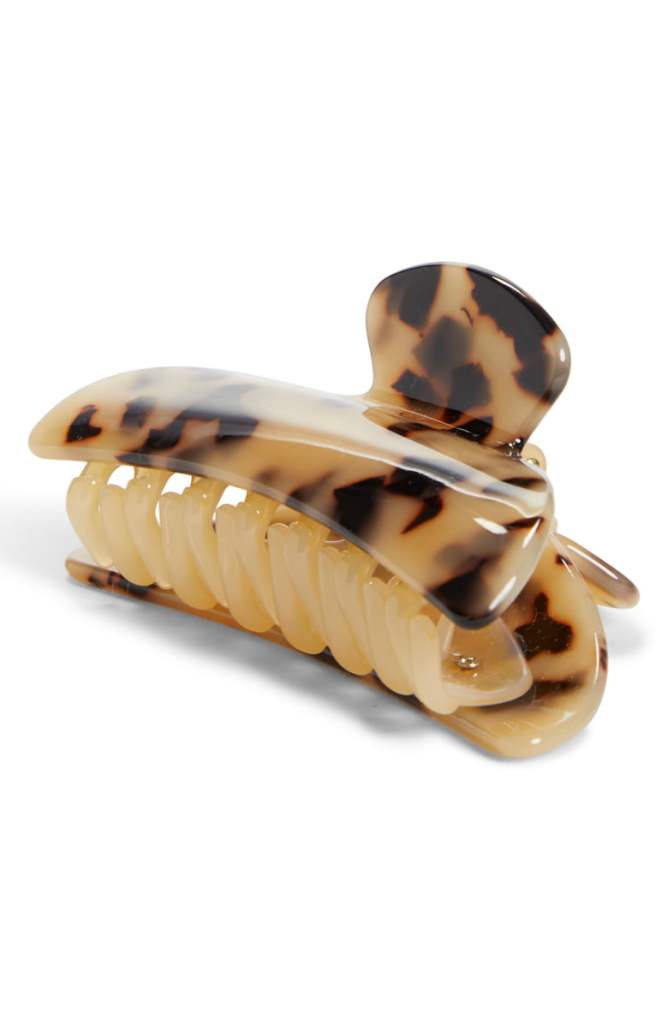 Lastly, when in doubt spice that hair up. If you are tired of the same bed head look you are giving your zoom professors, snag this tip to make your messy up-do stylish. From the classic clamp to fun shapes like butterflies, they are the perfect add on to your look. Even for ladies with thick hair like me it is possible to use this clamp. Claws are perfect to use when gelling your hair back, half-up hair, and the perfectly imperfect messy bun. I think whenever trying new things it is good to start off with the basics, so before we take off the training wheels this claw from Nordstrom does quite the trick. Plus with the turtle color this pairs with whatever color way you decide to wear next.
Hair claw, norstrom.com, $35, shop now
Remember: fashion is fun and another way to express yourself. Do not just limit yourself to clothing, but take it to all the different outlets that make an outfit and styling eye catching. Can't wait to see the looks you create!