While going through my college experience, I always faced health issues when it came to food. Sometimes, I would get sick for days after eating the simplest meals. After consulting with doctors and getting numerous tests done, I found out that I have the following food allergies: nuts, dairy, and the largest one of them all, gluten. Doctors told me that I have an "undiagnosable, minor form of Celiac's Disease" (undiagnosable because I haven't ingested an appropriate amount of gluten in the last year to test).
This diagnosis completely changed my college experience; I went from going to the dining hall most days, to not being allowed to because my college didn't offer any gluten-free options. Now, it's given me an excuse to find inspiration, as well as make my own variations of gluten-free recipes that all college students can easily do! 
01. Homemade Cinnamon Banana Pancakes 
When it comes to breakfast, I'm a sweet lover. Hand me a stack of pancakes and I'll be overjoyed. Cutting out breakfast items that contained gluten was the absolute worst time for me. Recently, I've taken it as an opportunity to figure out what recipes will work best for me, all while maintaining the gluten-free diet. While looking around, I found the Bob's Red Mill Gluten Free Pancake Mix, and I've been loving it ever since; of course, I had to add my own twist to it! This recipe is super simple for all college students, and will contain ingredients that you most likely have in your pantry! All you have to do is combine all of the following ingredients, throw it in a pan, and you're done! Top it off with your favorite pancake toppings; I made a cinnamon glaze!
Ingredients (Pancakes):
¼ cup of Bob's Red Mill Gluten Free Pancake Mix
1 overripe banana
A dash of vanilla extract (probably around 1 teaspoon)
¼ tablespoon of cinnamon
¼ cup of oat milk (or any milk you love)
Ingredients (Glaze):
¼ cup of powdered sugar
1 teaspoon of cinnamon
Just a dash of water or milk
02. Homemade Bagels
I never understood the importance of bagels in my life until I went gluten-free. Whenever I take a trip to New York City, I constantly yearn for bagels. So, I decided to look for recipes that I could easily make at home. I then found an easy recipe for gluten-free bagels by Wheat by the Wayside; not only is this recipe extremely delicious, it is also very simple to make! All you have to do is combine the two ingredients, and throw them in the oven; the recipe says to use a donut pan, but shaping them and throwing them on a regular baking sheet has worked for me as well.
Ingredients:
1 cup of gluten-free baking mix (or you can combine your favorite gluten-free flour and 2 teaspoons of baking powder)
¾ cup of Greek Yogurt
Any toppings you like! I either do everything bagel seasoning or chocolate chips
03. Customizable "California" Roll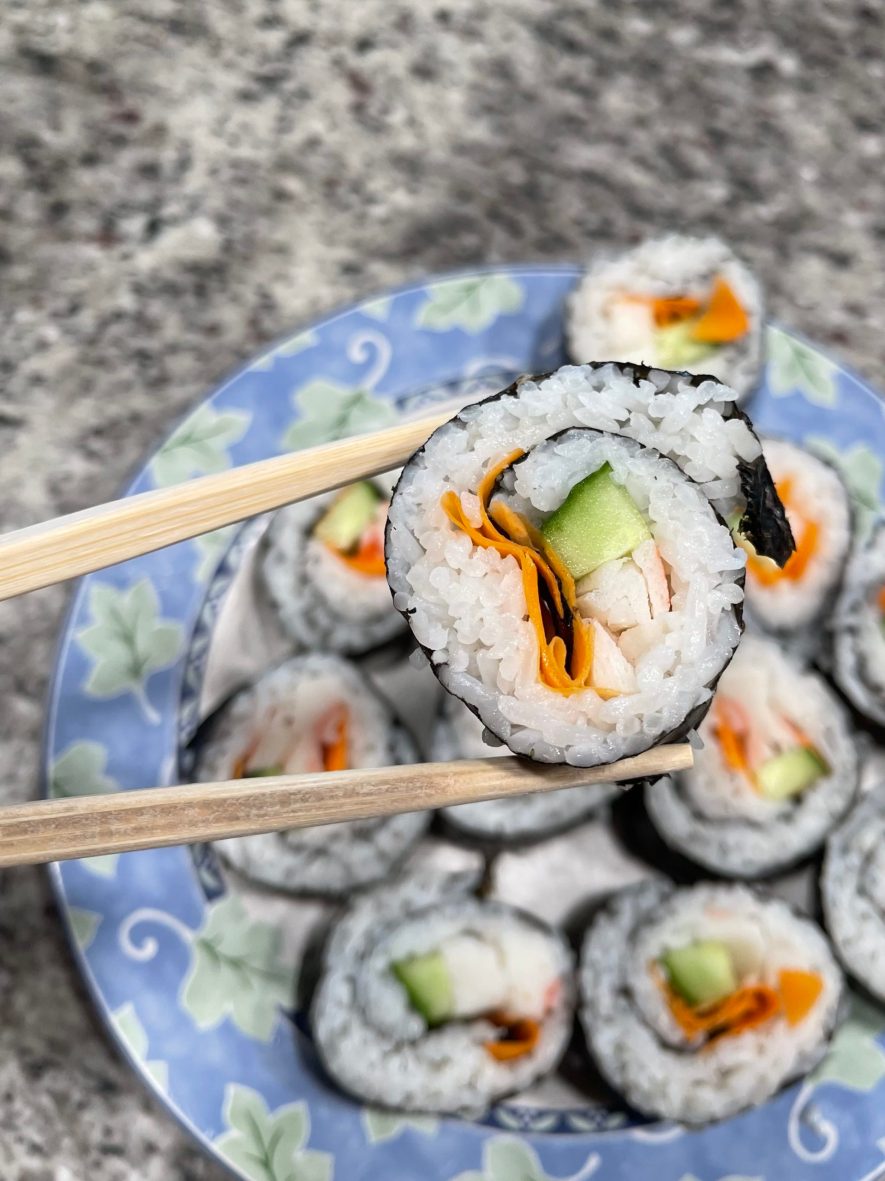 Even before switching to a gluten-free diet, I absolutely loved all types of sushi rolls. Sushi has been my favorite food for as long as I can remember, so learning how to do it at home has been a lifesaver. I did not follow a certain recipe for this creation, but it is extremely easy to make at home! This recipe is also extremely customizable, so if you don't have everything I state below, you can easily replace it with something else. This is served best with spicy mayo, soy sauce, and some wasabi!
Ingredients:
Sushi Nori Sheets (I get mine from Amazon)
½ cup of cooked jasmine rice (this rice gets sticky, so it's perfect for any sushi roll. You can use whatever rice you'd like though, but keep in mind that you may have to add some rice vinegar to it)
1 whole carrot
½ of a cucumber
Imitation crab or shrimp
04. Zucchini "Fries"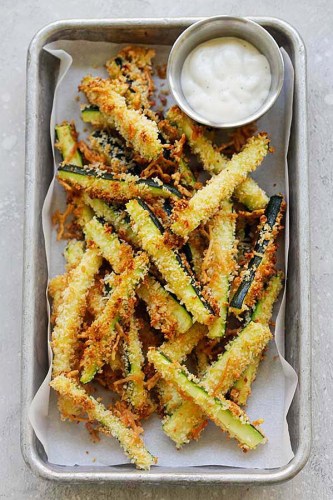 Though regular fries made out of potatoes are gluten-free, it is nice to have a change of pace when it comes to your fries. I am a huge fan of zucchini, so finding different ways to implement it into my daily diet (other than just roasting them) was important to me. When looking through Pinterest, I found the idea of making them into fries! The recipe I specifically followed was by Rasa Malaysia, and it's a great, standard recipe! This recipe is super simple, and can be done in an air fryer or an oven. Just toss them in a gluten-free flour blend, then into beaten eggs, and then into the gluten-free breading; then just throw them in the oven/air fryer!
Ingredients:
3 small zucchinis (I usually use one or two)
1-2 eggs
1 pinch salt
Gluten-free bread crumbs (you can find these in your local supermarket)
Grated parmesan cheese (I used about ¼ cup)
Gluten-free flour (this recipe doesn't call for this step, but I think it makes it a little crispier!)
05. The Classic Chocolate Chip Cookie
What's not to love about your basic chocolate chip cookie? It took me forever to find an awesome chocolate chip cookie recipe for my gluten-free eaters, but upon looking at my gluten-free flour bag, there was an amazing recipe right on the packaging! The recipe is on the back of the King Arthur Gluten-Free All-Purpose Flour, and it is super good! The ingredient measurements can be adjusted to make a malleable dough; some days, you need more flour, and others, you need more butter! It really depends on the texture you want, and the way you love your cookies.
Ingredients:
⅔ cup brown sugar
⅔ cup granulated sugar
2 cups gluten-free flour
6 tablespoons of butter (preferably unsalted)
½ teaspoon salt
2 teaspoons vanilla extract
2 teaspoons almond extract (if you have it)
1 teaspoon apple cider vinegar
1 teaspoon baking soda
1 teaspoon baking powder
1 egg
2 cups chocolate chips of your choice
My journey acclimating to a gluten-free diet during college has been very enlightening and extremely educational; everything I eat goes through multiple trial-runs to ensure that it is not only delicious, but also safe to eat. It has taken well over a year to fully adjust to this new lifestyle, but my body has never felt better. Being in college with dietary restrictions can be quite tough, but it's also a great thing to learn about yourself during the process. I hope these recipes not only taste great, but also make you feel great!
Featured Image via Madison Savage.