Confidence is a feeling that can be hard to come by. One summer, I participated in a volunteer program, and the feedback that I received from my mentor forever changed the way I view myself. She told me that one of my most outstanding qualities was the confidence I portrayed. I couldn't believe it – I had never looked at myself in that light, and was quite shocked that others viewed me in this way.
That simple comment from my mentor completely shifted the way that I would live my life forever. I have to say, I suffer from feeling discouraged and stuck in my ways quite often. Digging myself out of uninspired holes is something that doesn't always come easy to me. However, once I realized that how I view myself is not always how the world views me, I knew that I could shift my mindset.
The phrase, "fake it til you make it" might be cliche, but it's allowed me to gain more confidence and not take myself too seriously. I've learned that it's okay to feel down and to truly feel through my struggles. On my hardest days, I turn to people and things that make me feel even the slightest bit of happiness. One of those things has to be TikTok.
TikTok has swiftly taken over the modern social media age, becoming one of the most prominent platforms for users to consume content. Loving TikTok as much as I do, I've compiled a few personal favorite creators. My for-you-page is swarmed with fashionistas using their platforms to uplift mass audiences. When I'm feeling down, sometimes hearing someone else remind me of who I am goes a long way.
There's a few creators that I've fallen in love with while scrolling through my feed. They tend to be iconic fashionistas that are inspiring great audiences with their unique content style and approach. I reached out to three of my favorite creators on the platform to gain more inquiry on how they have used TikTok and fashion to evoke confidence in themselves and their fans.
Fleeskie Cake
This creator effortlessly combines the use of all things beauty and fashion to inspire her audience to upgrade their lives for the better. Growing up in an area where she felt it was easy to succumb to outside opinions, Fleeksie has continued to stand true in who she is, encouraging others to do the exact same.
Turning to makeup throughout her adolescence as a way to express her identity, it's no shock that I often come across videos of Fleeksie on my for you page showing off her latest makeup obsessions and preaching self love. With such a strong theme throughout all of her content, Fleeksie continues to remind her followers to always put themselves first.
I had the chance to ask Fleeksie and two other creators a few questions about their content styles, and they're able to use fashion as a motivation for self confidence.
MF: Often reminding your audience to lean into independence and to cut out negative energies, what made you incorporate this message into your content?
FC: I was kind of a weirdo growing up, so I learned how to be at ease with my own solitude, and to celebrate it. I saw how harmful [negative] influences could be, all in the name of being able to say that one has "friends." [Quite] honestly, if my followers hadn't pushed me to talk about things like confidence, I probably wouldn't have found a way to segway the conversations within my content into topics about cutting off negative energy and bad influences. I realized how important that message was to [my audience], and it became a reoccuring theme in my community by popular demand.
MF: Your content often includes the use of makeup/fashion. When did you start dabbling in the beauty space, and how do you use those mediums to express yourself?
FC: I didn't try to hone in on any makeup skills until I got my first job at 16. I introduced myself into the makeup world by trying to master one thing at a time. As the classic little sister, my older sister also had an influence in this, as I would use her products to try to achieve whatever look she mastered. It wasn't until 'quarantimes' that I decided to push myself and see how far my skills could go with graphic styles, neon looks, and Y2K fashions. I feel like the state of the world shapes my vision of my [image] in my head. I don't want to be a person who owns excessive amounts of clothing, with a fragmented closet homing various identities. I'm leaning into simpler looks, neutral colors, and embracing fashion that doesn't demand statement pieces.
MF: Who/what are some of your fashion inspirations, and how do they play a part in your everyday life?
FC: Makeup wise, I'd say Izzy Shae's youtube channel inspired my minimal chic aesthetic makeup transition in 2022. Prior to that, Avery Honeycut's TikTok page taught me how to create neon eyeliner, [a] moment I felt like I was actually nailing the look of graphic makeup for the first time. With fashion, I have this abstract mood board in my head, [where] I'll think of themes or 'cores' before I think of a [specific] person. I'm aware that what works on others won't always work on me, so I don't hang my hopes on emulating anyone. As far as everyday fashion goes, I live in the heats of the deep South, so I try to aim for fashion that allows me to breathe. I get sensitive to the feeling of fabrics bogging me down in the heat, so I end up dressing in ways that seem revealing out of sheer function and not irritating my senses.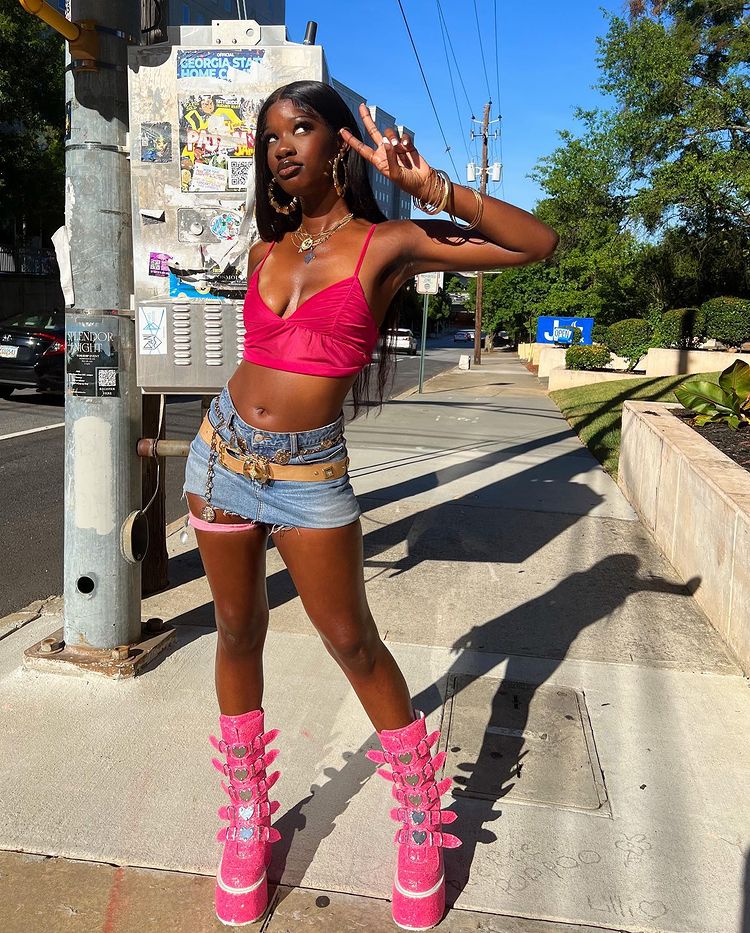 Aliyah's Interlude
This creator always seems to show up on my for you page at the right time. When I'm feeling down, or uncertain of myself, Aliyah always pops up across my screen, urging me to remember exactly who I am. Aliyah seems to always feel so relatable, speaking on everyday occurrences that inflict a widespread audience. One theme that she always seems to carry is her continuous effort to use her platform to uplift her audience through hilarity.
Beginning her venture into the world of TikTok after the pandemic hit, Aliyah found herself with extra time that allowed her to create content. Having a love for fashion for as long as she can remember, she began applying this to her content strategy. Giving advice through the use of comedy came easy to Aliyah, and she naturally began showcasing her sense of fashion that has created a perfect combination of her passions.
MF: How did you start creating motivational content, and how does it make you feel to know you've inspired so many people?
A: I started this type of content during quarantine as a note to myself and every [person] ever. It honestly feels so surreal that I've [been able to] inspire, or am even [viewed], by this many people at one time. It's definelty shocking, but I'm glad [I've been able to be] the one who is able to make so many [people] feel good about themselves.
MF: I love that your content includes uplifting themes combined with your great sense of fashion. What does fashion mean to you, and how do you use it to express yourself?
A: Fashion to me means everything. It's one of the greatest forms of art because it's so fluid. [I've found] you can change [personal fashion] every single day based on mood. I use it to express myself by showing the world my personal interests, such as the color pink, mini skirts, and sustainable fashion through my outfits
MF: Where do you get your style inspiration from and what are some of your favorite fashion brands?
A: I get my style inspiration from street style in New York, Tokyo, and also my extreme love of the color pink since birth. Some of my favorite fashion brands are Fancì Club, Blumarine, and MOWALOLA.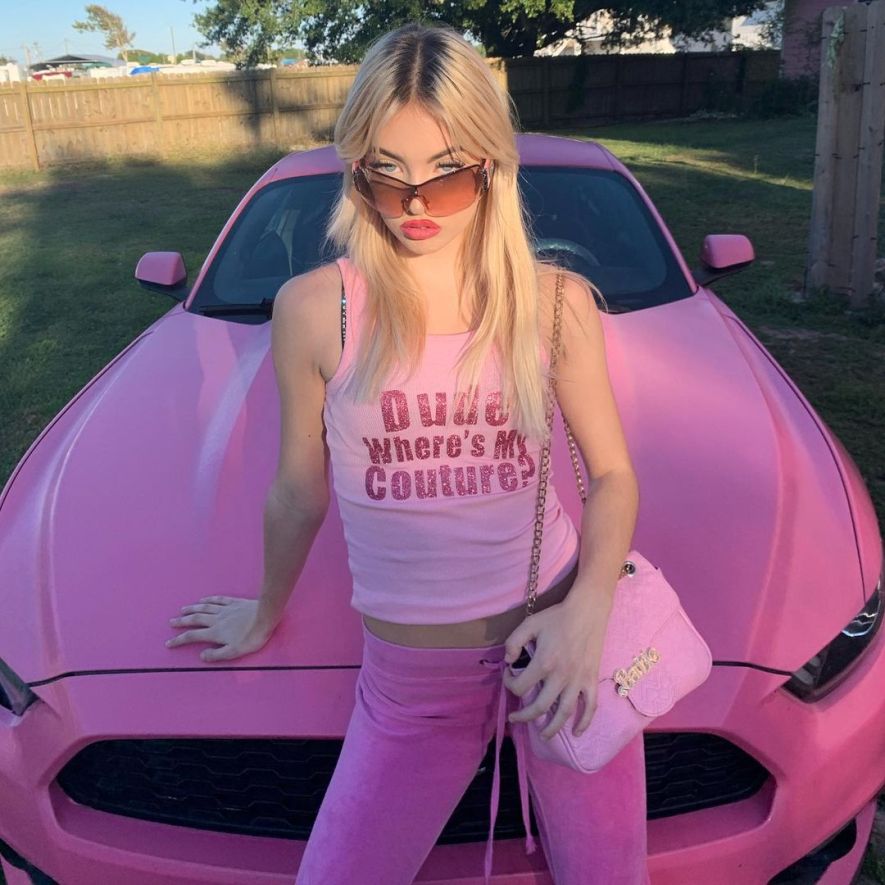 Barbie Doll Babe
No stranger to speaking her mind, this creator is renowned for blending wittiness with the Barbie Core aesthetic. Using her unique sense of humor to captivate audiences, Barbie Doll Babe's videos always remind me to not take things so seriously. Giving off total Paris Hilton vibes, this Barbie is not afraid to speak her mind.
Like many people around the world, the pandemic left Barbie Doll Babe feeling isolated, and she turned to TikTok as a creative outlet. Not thinking much into this venture, her content style quickly resonated with people, allowing Barbie Doll Babe to connect with more people than she ever anticipated. After an unexpected and swift emergence on the platform, Barbie Doll Babe has never looked back, continuing to crack jokes and make sure everyone is "sliving" for her content.
MF: Why did you gravitate towards humor-based content, and how do you connect your jokes to evoke a self-confidence building message?
BDB: I gravitate more towards comedy because not only is it a great way to cope with [struggles], but it's a great way to connect with others. I truly believe that humor can help make tough situations easier, and it can be very comforting to know that others understand and relate to [my experiences]. Using humor in my videos has naturally allowed [my own] confidence, appreciation, and love for myself to flutter, as I'm taking the time to appreciate and acknowledge how strong I am. Building my own confidence allows me to show other people that they can build self-appreciation as well.
MF: How have you incorporated fashion into your content style, and how does fashion allow you to express yourself?
BDB: I've incorporated fashion into my content by truly wearing what I want when I want to. I love all things pink and glamorous, and simply express that [in my content]. I don't worry about what others think about my look, because at the end of the day, I'm the one that's wearing it. The confidence I feel when I wear an outfit that I love versus one that I don't is incredible. As long as [everyone] likes [their own] outfits, that's the only option that matters!
MF: What are some of your early fashion inspirations/references that you pull from to create your content?
BDB: My mom has always loved pink, and naturally dressed me in it. Pink and glitter has always been a part of my wardrobe, thankfully! When it comes to my fashion, I pull a lot of inspiration from the early 2000s and the Myspace era before social media [took off], which is very nostalgic for me. I am also heavily inspired by Barbie, Paris Hilton, and Sharpay Evans.
Fleeskie, Aliyah, and Barbie Doll Babe all continue to stand strong in their content styles, inspiring people around the world. As some of my own favorite personal TikTok creators, they continue to encourage my own personal growth with confidence. These creators are game changing fashionistas using their platforms to encourage self admiration, one TikTok video at a time.
Featured photo by @fleeksie, @aliyahsinterlude, and @barbiedollbabee. Design by Her Campus Media.